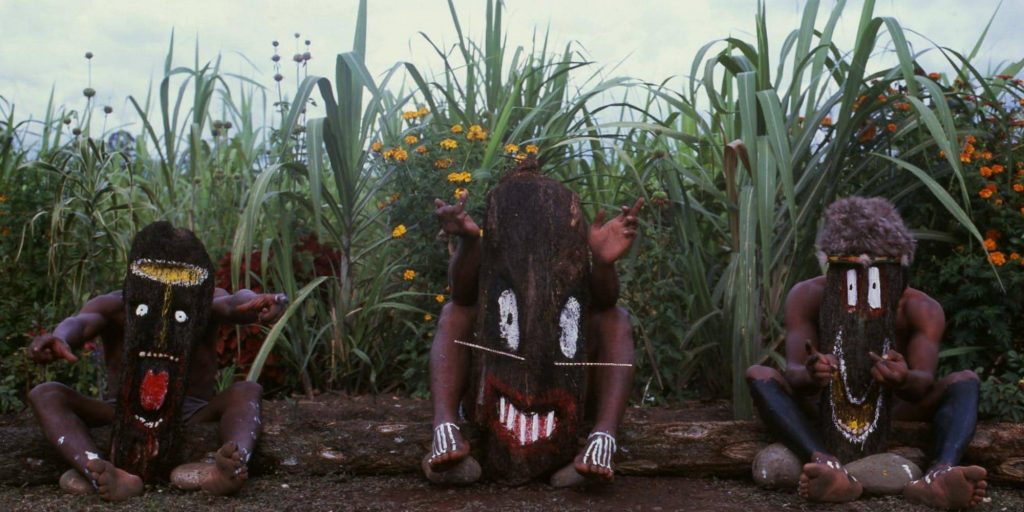 Join artist Eric Bridgeman for an interactive evening titled ROT BÜNG (Crossroad), dissecting the sounds and texts of Tok Pisin (Pidgin English) from the highlands of Papua New Guinea.
Bridgeman, from the Yuri Clan of the Chimbu Province in Papua New Guinea, is joined by Aunties and collaborators to present performance, spoken word, text, video, and demonstrations.
Learn words and phrases of Tok Pisin language with Aunties, see performances from Bridgeman and Bert Fletch (Bomai Yal), and hear a mix of the best classic music from PNG, with Bridgeman's own recordings of Maria Dama Jo from Jiwaka, PNG.
The evening includes a screening of 'Haus Man' (2012) produced by Bridgeman's artist collective Yal Ton. This collaborative video project sees Bridgeman working with his three younger cousins (D.K. 007, Sesmo, and Miro) from his original homeland, and Berlin-based motion graphics designer Slippery Pony (Willy Bernardoff).
Read more on the IMA website.
Image: Eric Bridgeman, 'Haus Man', 2012. Willy Bernardoff and Yal Ton, 16:9, varied durations.