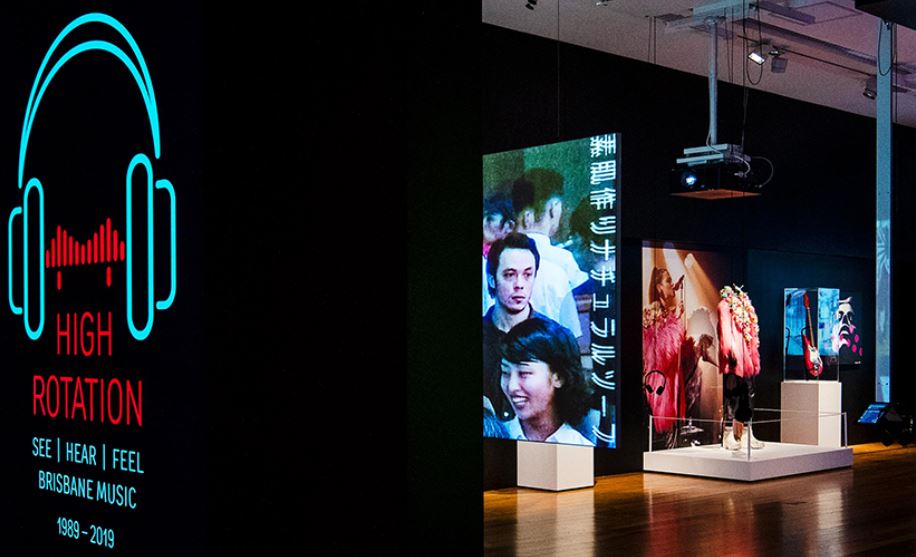 Featuring highlights over the past 30 years, High Rotation will reveal a snapshot of how popular music in Brisbane exploded from the local scene onto national and international stages.
Get a backstage pass to three epic decades of Brisbane's incredible music scene from 1989 – 2019, as Museum of Brisbane's High Rotation exhibition takes centre stage from 30 August 2019 – 19 April 2020.
Showcasing some of Brisbane's most memorable musicians, High Rotation is set to take music lovers down memory lane, while introducing a new generation to this iconic musical era through film clips, photographs, instruments, souvenirs, and ephemera, as well as an immersive digital component to elevate audience experience.
Music is an intrinsic part of Brisbane's cultural backbone, and the city is long known for being a hotbed of emerging music, with many homegrown artists fostering a gung-ho, do-it-yourself approach to music making. Experience a thirty-year catalogue of rare, remastered film clips, and hear from music labels, managers, artists, producers, and venue managers, as they share the stories, influences and highlights from Brisbane's past, present and future of Australian music.
Tune in to the musical prowess of artists including pop and rock heavyweights Keith Urban, The Veronicas, Sheppard, George, and Kate Miller-Heidke, as well as indie darlings The Grates, Violent Soho, Emma Louise, and Ball Park Music. High Rotation also pays homage to heritage legends, including Kev Carmody, Powderfinger, Custard, Regurgitator and Savage Garden as well as rising stars including WAAX, Thelma Plum, and Confidence Man.
More info – www.museumofbrisbane.com.au