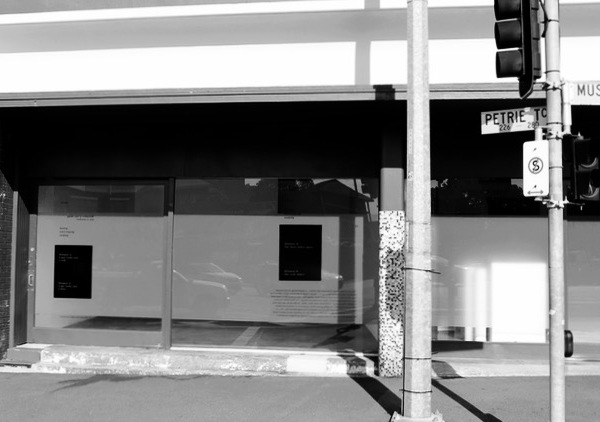 Boxcopy was founded in 2007 and DECADE celebrates ten years working with artists, writers and curators. Our anniversary provides a pivotal point to consider our future and possibilities for artist run culture. Boxcopy provides a space for artists to play and test ideas; a space for projects that are process-based, speculative and collaborative – our anniversary project DECADE reflects this approach.
Project for Future Alternatives invites artists to reimagine the use of the gallery space and the possible directions of artist run practice. Building on our recent collaborative projects with local, national and international artist run spaces, which considered the provocation that 'small acts of resistance can create change' – this project is focused on the future imaginings of artist run activity in the context of Boxcopy's ten year celebrations. From April – June 2017, artists will be in residence each month at Boxcopy: Joseph Breikers (April), Erika Scott and Archie Moore (May) and Simone Hine (June).
Stay tuned for event details throughout the project.
---
Part 1 | JOSEPH BREIKERS 
Residency: 1 – 22 April 2017
Event: No Joke/ End Times: A Listening Party Saturday 22 April 7pm-9pm
Boxcopy was formed in 2007 by seven art school graduates – Joseph Breikers, Channon Goodwin, Anita Holtsclaw, Daniel McKewen, Raymonde Rajkowsky, Marianne Templeton and Tim Woodward, initially operating from the basement (formerly Joe's studio) of a Queenslander house in New Farm. Now, ten years later, Joe will be taking over the current Boxcopy gallery as his working space over the month of April. Join us at the conclusion of Joe's residency for the event No Joke/ End Times: A Listening Party on Saturday 22 April, 7pm.
Joseph Breikers completed a Masters in Arts (Research) at the Queensland University of Technology in 2012. He was a recipient of funding under the Arts Queensland Individuals Fund in 2015 and in 2013 was the Queensland recipient of the Qantas Foundation Encouragement of Contemporary Art Award. In 2011 Joseph was awarded an Arts Queensland Career Development grant to undertake a residency in Skagaströnd, Iceland. Key exhibitions and projects include, Eight Embarrased Males (Metro Arts, 2016), Goma Q: Contemporary Queensland Art (QAGOMA, 2015), Fresh Cut 2013: Part 1 (Institute of Modern Art, 2013), Qaphqa (Ryan Renshaw, 2011), Regards, the Pit (Metro Arts, 2011), and Acoustic and Luminous Effects (DB Projects, 2010, curated by Amanda Rowell).