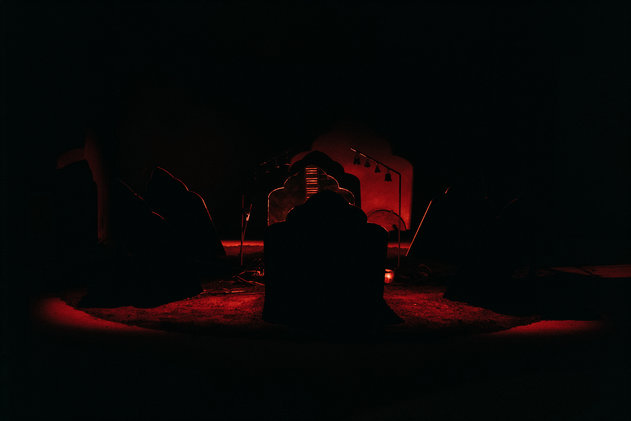 Conjuring Alterity presents the performative sound rituals of Naomi Blacklock. Employing sound, voice, breath and ritualised objects, the exhibition addresses the cultural and creative significance of the witch archetype as an emancipatory symbol for alterity in contemporary art.  The contrast of meditative breathing and primal screaming are engaged as deliberate rituals that build tension and bring forth the ineffable and unobstructed voice. Douglas Kahn's book Noise, Water, Meat (1999), observes the scream not only as a form of communication but as a sound that causes an awareness of the presences in one's own voice (Kahn 1999, 6-7). Therefore, when engaged as a deliberate ritual in creative practice, the scream has the potential to move beyond a signal for pain and anguish and to enact self-determination for the subject. Instead of being characterised as hysterical, repugnant and terrifying, the scream in ritualised performance transforms into a conduit for activism, rebellion, and emancipation. Channelling the witch as muse, as mask, and as voice, Naomi addresses the significance of disruptive voices and reimagines intersectional identities through the figure of the 'witch' as Other. 
Naomi Blacklock is an Anglo-Indian artist based in Brisbane, Australia who works primarily with sound installation, text works and performance. Her artworks involve an exploration and examination of mythologies regarding the witch archetype and harmful histories of gender and cultural identity. She is concerned with representations of the 'witch' as characterised by legal, religious and social institutions and the operation of this term by cultural minorities and LGBTQIA communities. Her ritualised sound objects and performances are intended to amplify the body and the voice through performative bodily precision and aural screaming.
Naomi has exhibited her work nationally including projects at Bus Projects (Melbourne), Seventh Gallery (Melbourne), Institute of Modern Art (Brisbane), Metro Arts (Brisbane), The Walls Art Space (Gold Coast), First Draft (Sydney) and also at Ildiko Butler Gallery (New York). She was shortlisted for the Jeremy Hynes Award (2017) and received the NAVA Ignition Award for Professional Practice (2015). Naomi is currently completing her PhD with the support of an Australian Postgraduate Award at QUT, where she also teaches as a Sessional Academic in Art History and in the Open Studio program. Naomi was a founding member of Clutch Collective artist-run initiative, presenting exhibitions using a three-ton truck as a gallery and is a Co-director of Boxcopy, a Brisbane artist-run contemporary art space.
Opening Event – Wednesday 31st October 6pm 
Artist Talk – Wednesday 7th November 6pm 
Kahn, Douglas. 1999. Noise, Water, Meat: a History of Sound in the Arts. Cambridge: MIT Press.