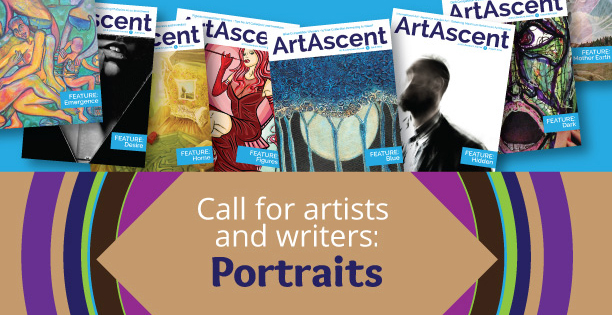 Call for artists and writers: ArtAscent is now accepting submissions for the international call for artists themed "Portraits."
The likeness, personality and mood of a being – captured in image and word. Portraits reveal character or lack thereof. A view of someone, a moment in time – captured and frozen in eternity. A portrait of you, a portrait of them, a portrait of us. A portrait of yesterday, today or tomorrow. What faces will you unveil?
All artists 18 years and older can apply. Submitted work can include visual art – paintings, drawings, photography, mixed media, digital, printmaking, installations, ceramics, jewelry, sculpture and other 2- and 3-dimensional media – and written art – fiction, poetry, short stories and other written explorations (up to 900 words). Submissions must be the original work of the applicant(s).
All work is evaluated based on the vision as relates to the submission theme. Submissions including diverse interpretations of the theme will be considered. The beauty of art is that 100 artists can look at the same thing and interpret it in completely unique ways. That's what can make it breathtaking. When you apply online, there is an 'artists statement' portion where you can provide context for your art and briefly explain how it relates to the theme. Share your interpretation and you might be professionally reviewed and profiled, and/or be published in ArtAscent Journal of Art & Literature.
The submission process includes application fee, application form, submission review and jurying, article editing, and selected artists publication in ArtAscent magazine, website and online social media. Each call is juried independently, so previously selected artists have equal opportunity of being selected again. The focus is on creating a strong and diverse collection of work that explores the call theme.
For more information please visit the – Website