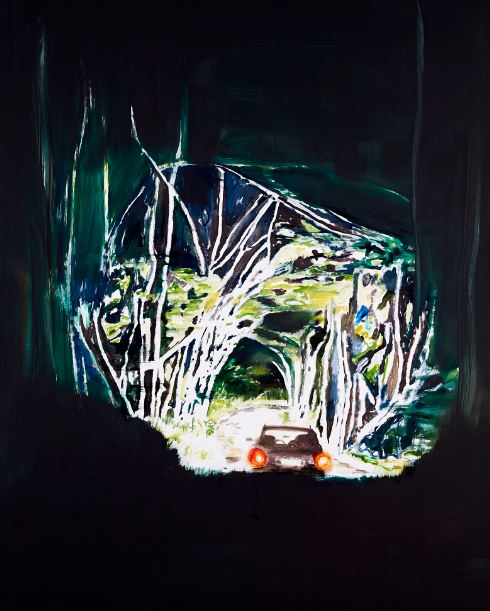 Road Trip is a group exhibition featuring the work of significant Australian artists Juz Kitson, Fiona Lowry, William Mackinnon and Guy Maestri. The show considers the long held presence of the 'road trip' in the Australian psyche and how it shapes our experience of the landscape.
The utterance of the phrase 'road trip' immediately conjures visions of escape, adventure and new horizons, but can also suggest disruption and potential adversity. Although lured by the beauty and freedom of the natural environment, we can sense the danger and mystery that our sometimes hostile terrain presents. Contemporary engagement with the landscape is often mediated via the lens of the car window, which is evidenced in the works produced by these artists. Each artist in the show uniquely interprets the premise of the 'road trip' to produce a new series of artworks.
Juz Kitson's ceramic sculptural installations are exercises in contemporary shamanism; her mystical, often bodily sculptures are the result of her wanderings and travels through nature. She performs a kind of alchemy on her materials, which include porcelain, wax, bone, silk, animal pelts and hair, to produce her seductively captivating artworks.
Fiona Lowry's practice traverses portraiture and landscape, creating works that capture the beauty and haunting nature of the Australian landscape. Utilising soft pastel tones and an airbrushing technique, Lowry's distinctive works are inspired by both history and place.
William Mackinnon has represented the road in his paintings for many years and it is a key symbol in his oeuvre. His interest was initially sparked by memories from childhood, but has come to stand as a metaphor for how it feels to be in the world today. "I love being in the car careering through the landscape, with the radio or music on, in my little bubble, looking through the screen on the way somewhere. It fills me with sensations and ideas. It is like a little road movie every time."
Guy Maestri is known for his bold depictions of the landscape, which are painted en plein air and entails the artist translating scenes directly outdoors with rapid strokes of his brush. Maestri's strong sense of respect for the natural environment has become apparent in his portrayal of road kill in recent series.
Road Trip brings together these four acclaimed artists to present audiences with an opportunity to engage with their work at Jan Murphy Gallery.
Image: William Mackinnon When I drive I get these ideas 2015, oil on linen, 150.0 x 122.0 cm