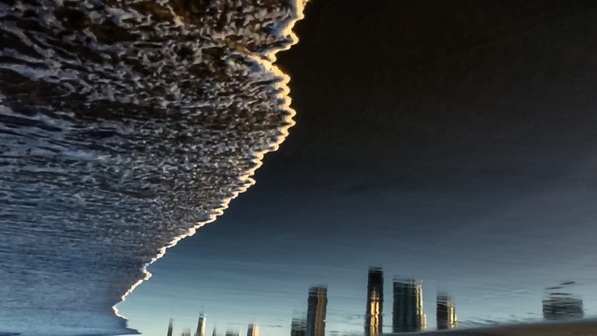 Four emerging curators and five Flying Arts Queensland artists have come together to present Shift, an exhibition that investigates the transience of change and its capacity to be both transformative and destructive.
Featuring artists working in differing mediums, this exhibition is set to investigate and interpret the meaning of Shift through video installations, photography, works on paper and an opening night performance art piece at the Judith Wright Centre of Contemporary Arts on Thursday 8 December from 5.30pm – 7.30pm.
The exhibition features works from artists Duke Albada, Chris Bennie, Joachim Froese, Sharmila Nezovic and Jude Roberts , and is the product of the Flying Arts Alliance Curator Development Program, providing emerging curators with skills and hands-on experience in curating gallery based visual art exhibitions. This year's program includes emerging curators Zoe Blandford, Gillian Jones, Jo Kaspari and Emma McLean  were guided through the process by Curator Simone Oriti.
Flying Arts Alliance Executive Officer, Kerryanne Farrer says "In the 45th anniversary year of our organisation, Flying Arts' commitment to the development of a vibrant visual art culture in Queensland is a constant.
"Our curator development program is a wonderful example of emerging curators, under professional guidance, showing the work of excellent artists. It is fitting in this significant milestone year for our organisation that they happen to also be Flying Artists."
Shift
launches 5:30pm, Dec 8, 2016, at the Judith Wright Centre of Contemporary Arts, 420 Brunswick Street, Fortitude Valley. RSVPs can be made at
www.flyingarts.org.au/rsvp
.
Shift will be open to view 9:00am – 5:00pm, Monday – Friday, 8 Dec 2016 – 20 January, 2017. Please note the exhibition will be available as a window display only between 23 January 2016 – 3 January 2017.
Image:  When Will We Ever Be Together Forever 2015, Still from video with audio by Chris Bennie