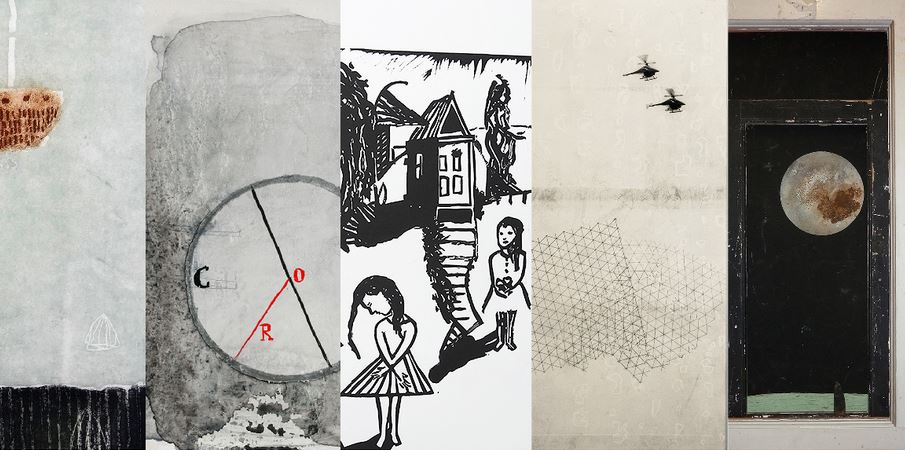 The exhibition The Spaces Between by the Nightladder artist group explores the notion of place and how we, as humans, navigate it. Finding one's way in the world requires a particularly complex behaviour, which is even more challenged in times of globalisation, increased migration and displacement of peoples.
All works are underpinned by the idea of the power of the image to tell complex stories and the balance between the materiality of the medium and the immateriality of the idea it supports. This ranges from considerations of the weight given to text and image in Gardner's and Gotzmann's work; how to repurpose material objects to tell new stories in Doyle's assemblages; and considerations by Tasker and Pullen of how tightly or loosely a line to follow in the making of art to acknowledge the medium as part of achieving verisimilitude. The exhibition also gives the collective the chance to explore the spaces between each of their individual practices.
Each Nightladder artist has an established practice, which includes as a vital part the commitment to works on paper, either through drawing or printmaking. The artists have shown together or individually in Brisbane, Sydney, Melbourne, Canberra and other Australian venues as well as internationally such as in Wales, China, Indonesia and Hong Kong. They have also been working collaboratively on Artist Book projects – some of which are on display – and actively share expertise and equipment such as printing presses.
While each artist has their own practice and solo shows, exhibiting together as a group provides the individual with the chance to explore a synergy between individual practices and also creates a formal site of conversation on divergent approaches.