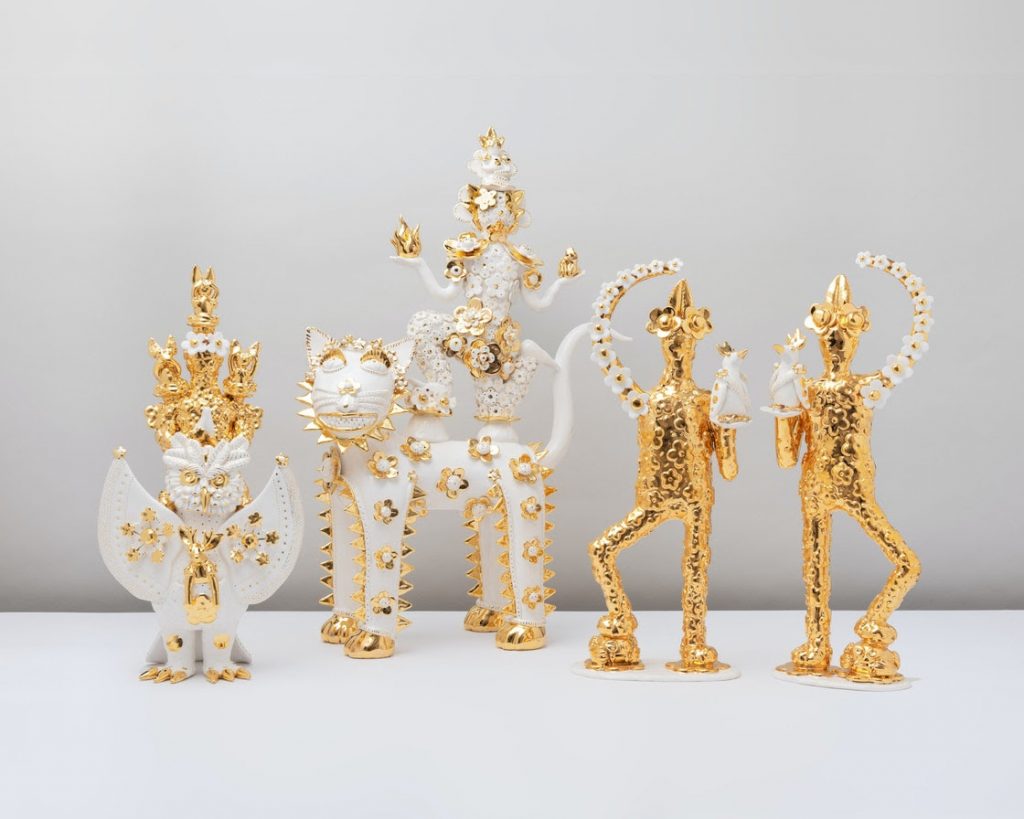 Over a career spanning more than 20 years, Vipoo Srivilasa has created intricate and elaborate artworks that reflect his bicultural experience living between Australia and Thailand. Working mostly in ceramic, he celebrates the intersections and overlaps between our cultural, social, philosophical, and environmental ideologies with a mix of humour and reverence, iconography and ornamentalism.
Almost 30 years after his move to Australia, Srivilasa's renewed appreciation for his life now informs his inclusion in the Asia Pacific Triennial (APT) 10 at the Queensland Art Gallery | Gallery of Modern Art, Brisbane. Shrine of Life 2021 is a largescale installation based on the Bangkok temple Srivilasa visited for a blessing before leaving Thailand.
Vipoo Srivilasa was born and raised in Thailand. Awarded a Bachelor of Art (Ceramics) from Rangsit University, Bangkok, Thailand (1994), he undertook postgraduate study in Australia with a Graduate Diploma of Arts (Ceramics) from Monash University (1997) and a Master of Fine Art and Design from the University of Tasmania (1998). Srivilasa's work has been exhibited throughout Australia and internationally at the Museum of Fine Arts, Boston; Saatchi Gallery, London; Ayala Museum, Philippines; Yingge Ceramics Museum, Taiwan; Nanjing Arts Institute, China and the National Gallery of Thailand. His work is held in national and international collections including the National Gallery of Australia, the Art Gallery of South Australia, QAG|GOMA Brisbane, and the Craft Council, United Kingdom. In 2021 Srivilasa was named Ceramic Artist of the Year by Ceramics Monthly and Pottery Making Illustrated, publications of the The American Ceramic Society, USA.
Image: Shrine of Life/ Benjapakee Shrine 2021
Mixed media installation with five ceramic deities.
Purchased 2021 with funds from the Contemporary Patrons through the Queensland Art Gallery | Gallery of Modern Art Foundation / Collection: Queensland Art Gallery | Gallery of Modern Art, Brisbane