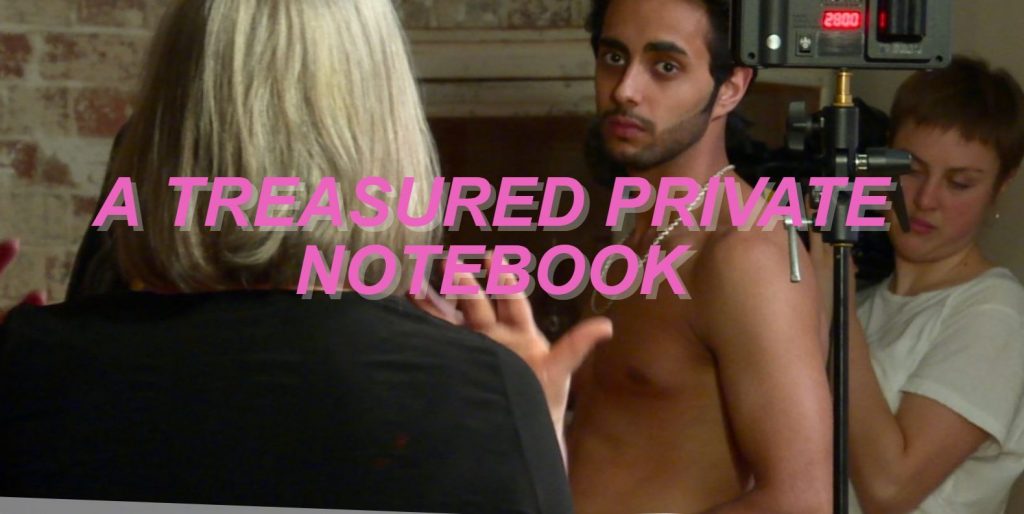 A treasured private notebook responds to Ella Sowinska, and Thea Jones' shared childhood experience of discovering the secret writing practices of their mothers.
Both Sowinska and Jones actively engage with their mother's creative practices for this exhibition. Sowinska's film, 80 Ways, is an observational video work documenting the on-set collaboration between the artist and her mother as they work together to dramatise a chapter of Sowinska's mother's erotic novel, written under the pseudonym Sandy Mayflower. Jones' new work is a large scale textile installation responding to an essay written by her mother. In 2017, Jones approached her mother to write an essay to accompany a work exploring nostalgia as a coping mechanism for trauma. Hoping for a scathing review of family farm dynamics and conservative racist rural politics, she instead received a touching story about death, loss, and the function of nostalgia. This new work is hand embroidered with an excerpt of text from her mother's essay, as well as the motif of the Paterson's Curse invasive weed. Paterson's Curse covers the landscape surrounding Thea's mother's childhood home with a blanket of purple flowers. It has been an ongoing theme in Jones's recent works as a representational motif for European colonisation, and a subsequent critical investigation and deconstruction of her own role in this as a white woman.
Ella Sowinska
Ella Sowinska is an artist and filmmaker whose work is guided by the theoretical discourses of documentary and reality television. Working predominately in video, installation and occasionally performance, Ella addresses the impact that the constructed situation has upon these social relationships. Her work explores the power dynamics between director or artist and actor, participant or contestant by drawing attention to the often-constructed situation. Recent projects have been concerned with the representation of intimacy and desire in non-fiction screen based works from a queer perspective. Ella graduated with an Honours degree in fine art from MADA at Monash University in 2013, and a Masters degree in film and television from The Victorian College of the Arts in 2018. Ella lives and works in Naarm Melbourne on the unceded sovereign land of the Wurundjeri people of the Kulin Nation.
Thea Jones
Thea Jones is an artist with a background in philosophy. She is broadly interested in post-structuralism and theories of language, particularly through a feminist lens. She often utilises textiles and traditional craft techniques to explore these themes. Recent projects have responded to folklore and amateur rural histories surrounding the region in NSW where her maternal family has lived for over 100 years. Recent exhibitions include: Jane's Salvation (Paterson's Curse) at TCB, 2017; nul at Bus Projects, 2017; and Everything Spring, curated by Julia Murphy at The Honeymoon Suite, 2017.
Rosie Funder
Rosie Funder is a non-fiction writer. Her work has been published in the Griffith Review, the Lifted Brow and un Magazine. In 2018 she was a Griffith Review fellow.
Rosie is a guest speaker at the artist talk on 27 February 5:30pm, and also contributed a catalogue essay.
Diego Ramirez
Diego Ramirez is an artist and writer interested in terror as a response to the Other. He has held solo exhibitions and individual screenings locally and internationally at the Australian Centre for The Moving Image; MARS Gallery; and Perth Centre for Contemporary Photography. Group shows include Art Central Hong Kong; Torrance Art Museum; WRO Media Art Biennale; Hong-Gah Museum; and Careof. Ramirez's writing features in A+a: Art and Australia; Runway Journal; and Critical Contemporary Culture Journal. He co-edited the booklet *dumb brunette vol.1. Ramirez is represented by MARS Gallery.