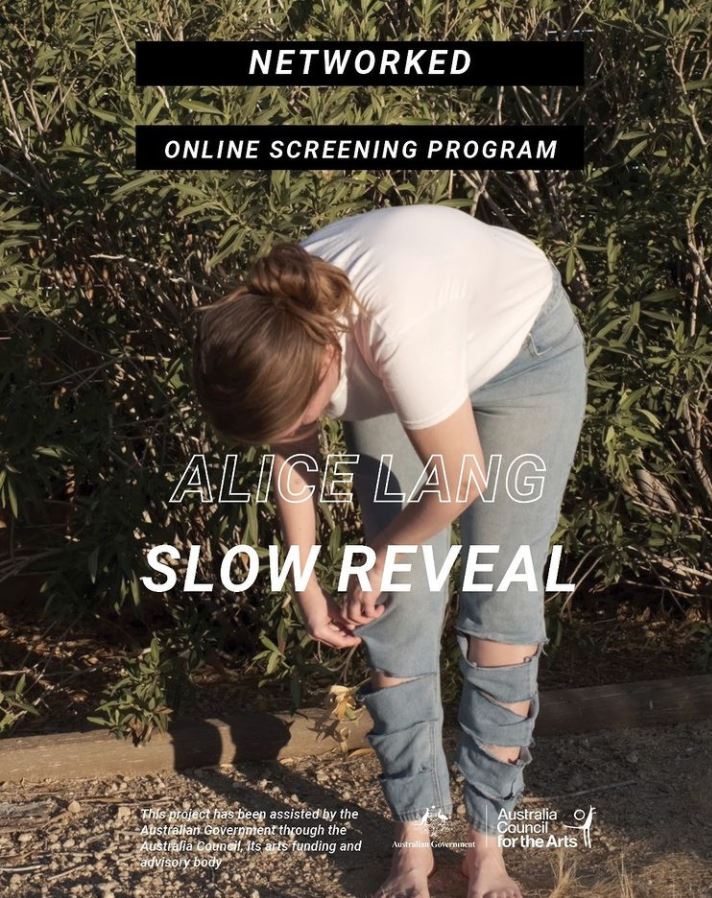 Slow reveal examines the body as a site of objectification. Clothing and fashion are a form of social communication that is often perceived to play a key role in encouraging the objectification, dehumanization and denial of agency for female bodies. The repetitive act of ripping jeans within this video is a violent performance of self-objectification which explores and complicates these ideas, challenging the notion that clothing (which conforms to modesty norms) is a safe space.
Alice Lang is an Australian artist based in Los Angeles. Her cross-disciplinary art practice utilizes a variety of media such a ceramics, painting, collage and video to examine how existing power structures disseminate and manifest within individual bodies and mass culture. Her work examines the way in which culture and context influence the meaning and value of text, objects and images and how this shifting relationship can be used to subvert dominant paradigms and reclaim space for female voices.
Lang graduated from the MFA program at CalArts in 2015 and has completed residencies in Canada, New York and Los Angeles. She has been the recipient of awards such as the Queensland Art Gallery Melville Haysom Scholarship (2009), Australia Council New Work Grant (2012), Lord Mayors Emerging Artist Fellowship (2012) and the Freedman Foundation Traveling Scholarship for Emerging Artists (2013). She was also a founding member of the feminist art collective LEVEL from 2010-2015.