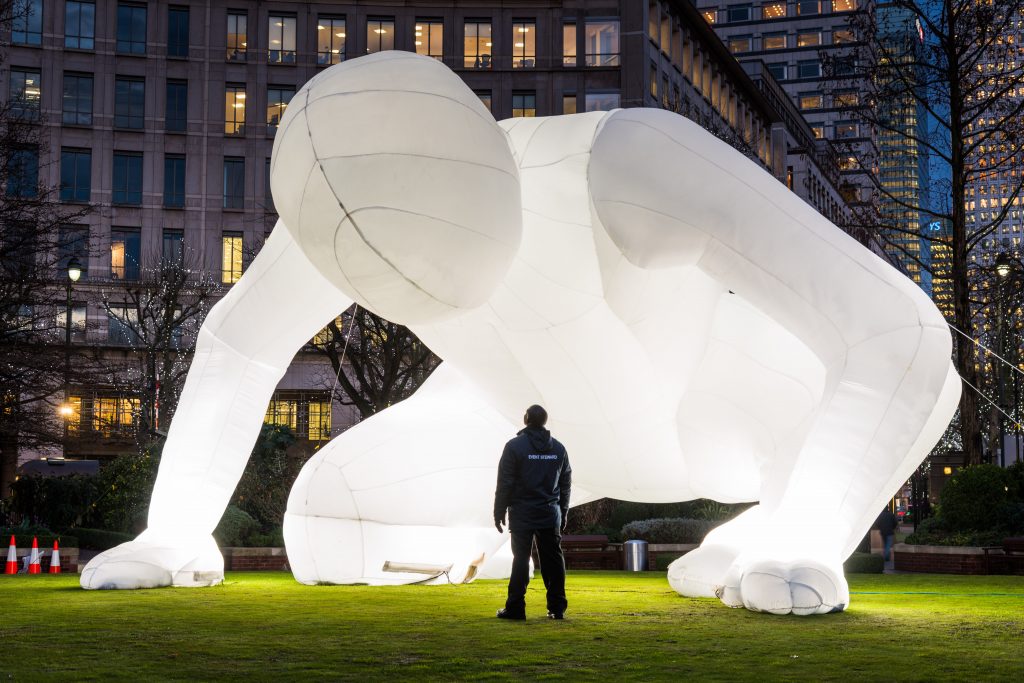 Internationally-renowned Australian artist Amanda Parer brings us Fantastic Planet – giant inflatable luminous white 'humanoids' who land at different sites across the globe.
We are thrilled to announce one such humanoid has chosen Portside Wharf as its new home from 31 August to 26 September!
The five-metre-tall figure titled 'What's That' will crouch down over the wharf, peering at the onlooker – making for a sensational Insta pic.
The artist took inspiration from 1973 Czech/French film Fantastic Planet (La Planète Sauvage), a story set in an unimaginably distant future where gargantuan humanoids take over a human race turned feral. It is this point that interested Parer, who shares a view with naturalist television presenter David Attenborough, in which humans threaten their own existence and that of other species by using the world's resources.
"Scale is a very important factor in this work in that the artist is allowing the audience to hopefully experience a moment of humility and reflection amongst these large but peaceful giants, a sense that we as a species rarely get to feel." – Amanda Parer.
Visit the gigantic humanoid at Portside Wharf to experience this feeling for yourself – wonder in its size! Watch it light up the wharf at night as the entire figure becomes illuminated or visit during the day to snap the humanoid amongst riverside views.
Spend the day with the humanoid to see the illuminated art installation in both lights by dining at the wide range of Portside Wharf restaurants. Enjoy flavours from around the globe with Aamaya Indian Restaurant, @Mr & Mrs Jones, Bamboo Basket, Belvedere Bar 'n Grill, Byblos, Burrito Bar, Ginga Sushi, Gusto da Gianni, Pineapple Express, Subway and Sono Japanese Restaurant. Grab your family and friends, take a stroll along the riverside walkway and catch a new release at Dendy Cinemas for some extra fun. The humanoid will be there waiting for you on the wharf when you get out!
Catch the humanoid at Portside Wharf from 31 August to 26 September, before it takes off to its next destination.