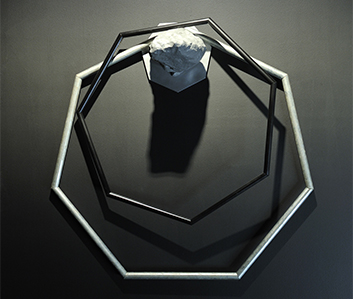 Conceived as part of Charles Robb's ongoing self-portraiture project,Catacoustics is informed by his twin interests in figurative and incidental form – especially the tension between highly refined, modelled forms and the mundane objects and materials that accumulate in the studio during the modelling and casting process. He combines these elements into provisional arrangements: composite sculptural forms, small 'tableaux' or installations.
For Catacoustics the various components interconnect through a network of formal and conceptual resemblances with the Fairweather memorial rock as a central element. The boulder has a history that extends from Palaeolithic structures to the memorial rocks of our public spaces.  With its weight and defiant materiality, the boulder represents the purest expression of a 'problem': whether it is the problem of moving it, unlocking its mineral contents or 'releasing' a figure from within it.  As a memorial device, the boulder has a paradoxical quality – simultaneously uniting the material and the metaphysical.  Robb was interested to discover on a trip to Bribie Island that Ian Fairweather, the local epitome of the Romantic artist, is remembered by one of these rough boulders and it is upon this rock the work is based.
Catacoustics can be regarded as a manifestation of the correspondences and slippages that occur in the studio. Comprising forms that are familiar and strange, meticulously crafted and refined but also strangely disorienting.  Just like the artist's studio, the gallery is a space in which indeterminate subjectivities are continually generated and abandoned – a place where the untidy renegotiation of identity becomes an expressive material.  It is this tension thatCatacoustics seeks to give form to.
Exhibition Opening: 16th September, 6:00pm
Artist Talk: 23rd September, 6:00pm