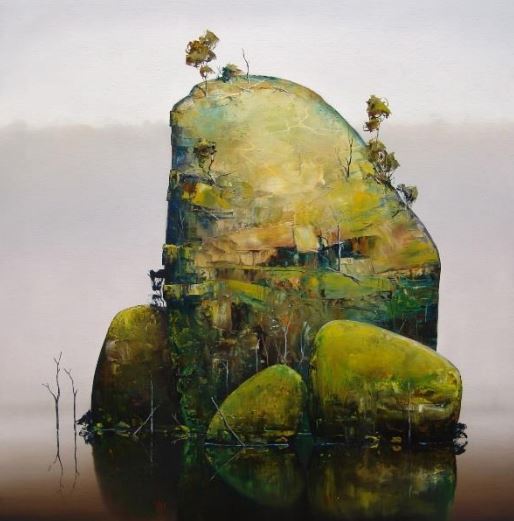 The Australian landscape is an enigma of nature's imagination. Christopher Lees' long awaited solo exhibition at REDSEA gallery takes us on a unique exploration into the depths ofsurrealism in which the Australian landscapes inherently embodies. Rejecting the picturesque European gardens and manicured lawns, Lees' instead creates surreal worlds of gnarly, craggy, primeval escarpments that plummet into the abyss. These landscapes echo the familiar outback terrain while subverting reality; transforming it into fluid, subconscious worlds. Mystical black pools, bubbling boulders, and inverted cliffs all are trademarks of Lees' landscapes as he takes us on a journey beyond the net of linear geography.
"…I like to take people to a place that they couldn't get to alone. I try to represent the Australian bush with emotions that can't be written down. I want the viewer to feel alone, at peace, and privileged to behold this surreal landscape"
Lees distinctive style combines technical mastery with a poetic vision to recreate a harmonic stillness synonymous with the Australian bush. Although he has travelled extensively these paintings do not depict a specific place, rather they aim to capture the true spirit of the Australian environment. After working as a Jackaroo, opal miner, and sign-writer, Lees began his career as a landscape artist in 1999, earning a dedicated audience as he unravels the Australian outback experience into these astoundingly beautiful panoramas.