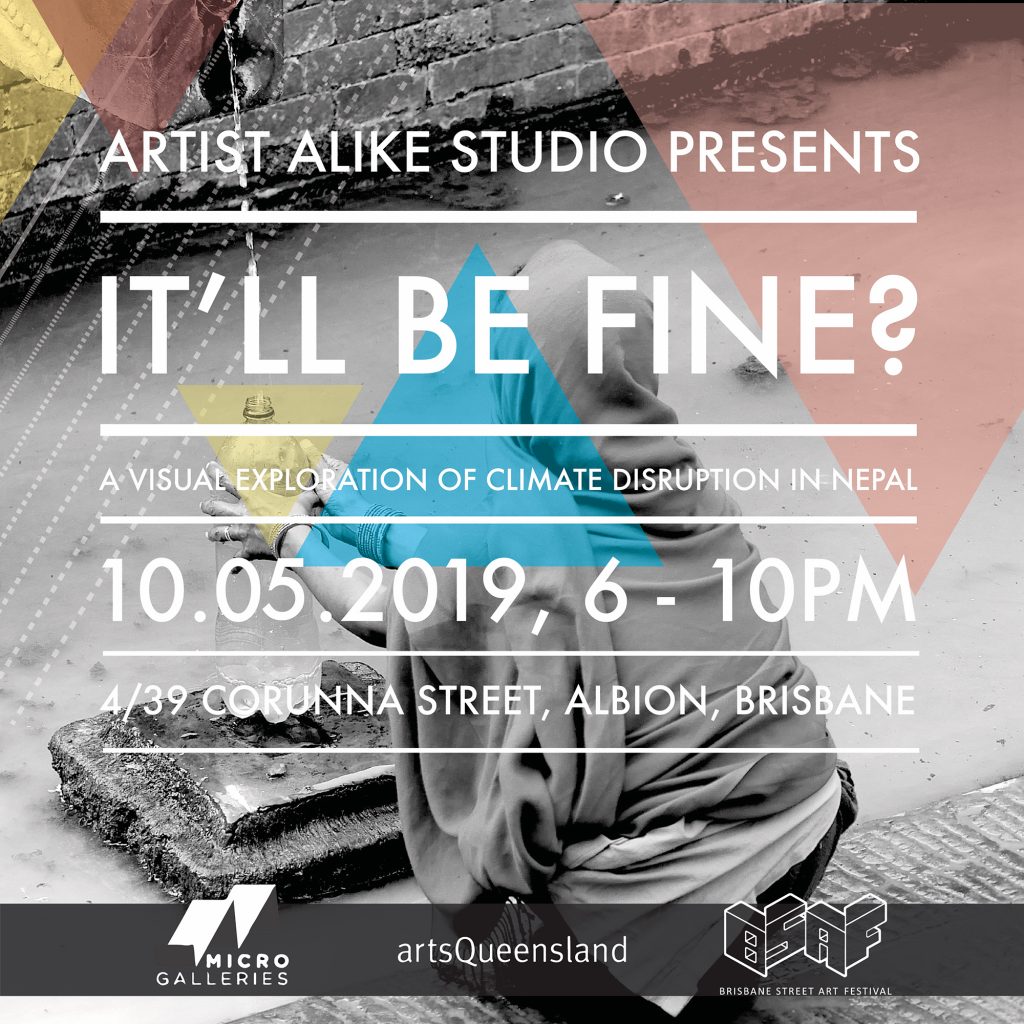 Art and science intersected on the top of mountains in Nepal for Brisbane based urban artists The Brightsiders, Sarah Sculley and Lara Furst. Now, they are bringing their findings, and their art, home in a group show at Brisbane's newest Gallery, Artists Alike in Albion.
The group represented Australia at an International Arts Incubator Program, called Microgalleries, in Nepal where they learned from climate scientists and community members about the urgency facing Nepal with climate change.
Sarah Sculley, one of Australia's leading female Mural artists continues to produce work that empowers and communicates relevant issues in her community. Having successfully held solo and group shows both in Brisbane and Australia, she's looking forward to/inspired by "SARAH QUOTE"
The Brightsiders, a group of Urban Artists in Brisbane made up of Joel Fergie, Jordan … and Jordan…, form a large part of the work in "Everything is Fine". In a world that so often focuses on the negative, the Brightsiders always aim to show a lighter side of life. So how are they tackling climate change? "QUOTE"
No stranger to photographing the street art scene in Brisbane, Lara Furst is sharing her work in a group show situation for the first time. "Climate Change is urgent and convincing people to change their habits before we lose most of the snow on the Himalayas matters for everyone on the planet. It's enough to force you to get over your fear of sharing your art and getting the message out there," she said.
Sarah Sculley, The Brightsiders and Lara Furst Present "It'll be Fine: A visual exploration of climate disruption in Nepal" from 6 – 10pm on the 10th of May at Artists Alike Gallery, 4/39 Corunna St Albion. Bands, Nepali Food and Good times for all.
The Show is proudly presented as part of Brisbane Street Art Festival http://www.bsaf.com.au with assistance from Arts Queensland.