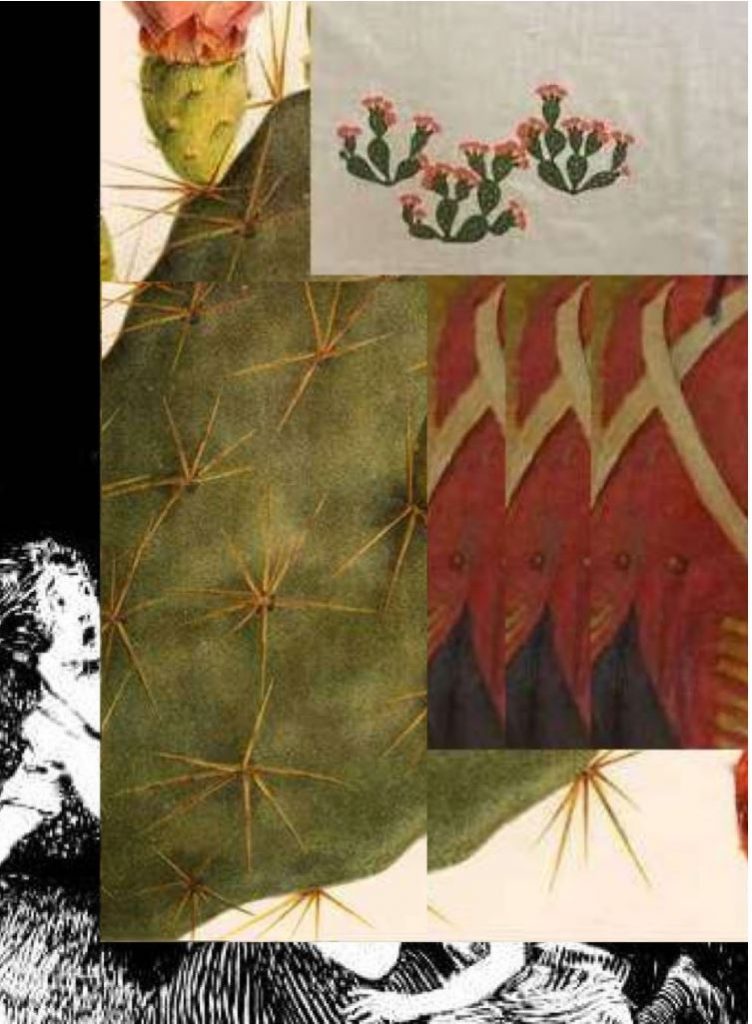 Echoes of Invasion (Prickly Pear) is part of an ongoing visual exploration of my personal situated-ness in relation to everyday and ongoing colonisations in contemporary so-called Australia. Drawing together everyday observations, art-historical or pop cultural references, allusions to the domestic, and hints of white Australian vernacular humour, I respond to colonisation as an everyday process perpetrated by everyday people living their everyday lives.
Echoes of Invasions was stimulated by the incidental presence of opuntia stricta (Prickly Pear) in my everyday life on unceded Jagera and Turrbal lands. Seemingly unremarkable in the garden of my child's kindergarten, this plant carries in its seductive spiky paddles, echoes of the original species introduced in 1788 for the purposes of cultivating dye for British Red Coats. In Echoes of Invasions, I borrow a reference to this uniform from The Landing of Captain Cook at Botany Bay (E. Phillips Fox, 1902) and butt it up against snippets of Margaret Flockton's botanical illustration Opuntia (1911), an embroidered handkerchief, and a cartoon from The Sydney Mail (1923) called 'The Invasion of Australia' featuring a prickly pear monster chasing a white family. I allow the Prickly Pear in my personal realm to lead me to these disparate yet interrelated references in a way that connects colonisations past to colonisations present, in a way that shrouds the colonial legacy in the context of my everyday life.
As in previous works, the way these figments refuse to coalesce on the surface of the painting evokes the unresolved nature of the colonising process. Here however, the canvas has been abandoned as a support for the painting in favour of a crude 'paper' panel made from reconstituted kitty litter, dog hair, lantana flowers, and string. In this way, materially as well as symbolically, the detritus of my everyday life on unceded Jagera and Turrbal lands becomes the foundation of my visual response to ongoing colonisation.
Image: Sally Molloy, Echoes of Invasions (Prickly Pear), 2022, digital collage.