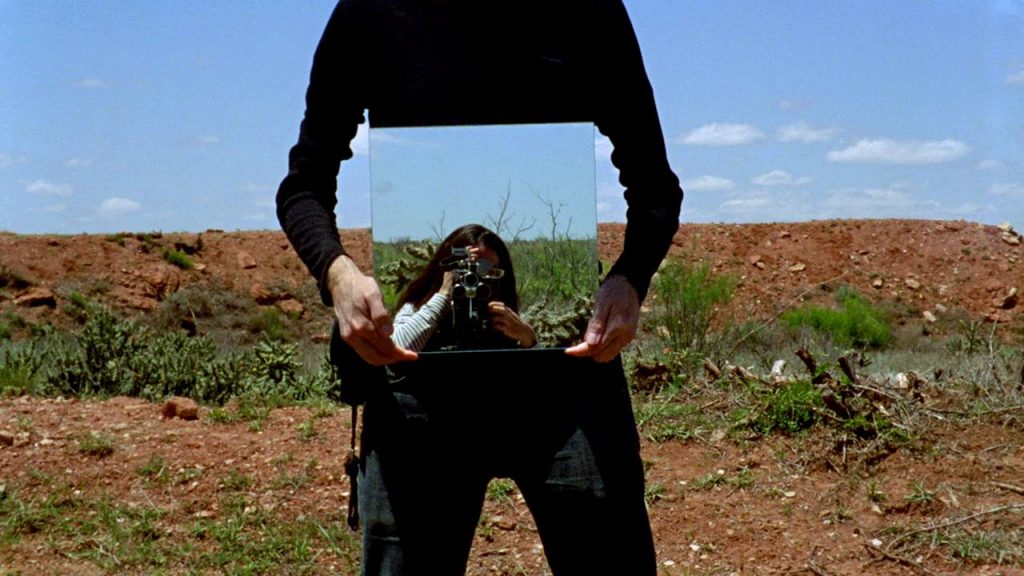 'Focus Points' consists of four documentaries on Robert Smithson and his work. Whether engaging with his life, criticism, entropy, or cosmic time, each documentary is marked by form precisely tailored to the content, whether in Jennifer West's hands-on destruction-as-construction of film, or James Bennings's sympathetic attendance to our own sense of duration. Focus Points is the third in a series of three film screenings in conjunction with the Robert Smithson: Time Crystals exhibition. Curated by John Edmond
'The Heat Death of the Universe' 
Conor Bateman | 2018, 10 minutes
Robert Smithson's fascination with entropy and science fiction set him apart from other artists working across Minimalism in the 1960s. This video essay places the writing and work of Smithson and his contemporaries within science-fiction films of the era, revealing ideological and architectural similarities.
Courtesy of Conor Bateman
Supported by UQ Art Museum and Monash University Museum of Art
'Amarillo Ramp'
Bill Brown & Sabine Gruffat | 2017, 24 minutes 
Brown and Gruffat's film engages with Smithson's final earthwork, Amarillo Ramp (1973), located in the Panhandle of northwest Texas. Employing filmmaking strategies both responsive to the artwork's environmental context and informed by Smithson's own art-making strategies, Amarillo Ramp is an observatory. Here, human interventions, land uses and human scales of space and time are set against geological and cosmic scales.
Courtesy of Bill Brown & Sabine Gruffat
Jennifer West
'Spiral of Time Documentary Film (16mm negative strobe-light double and triple exposed – painted with brine shrimp – dripped, splattered and sprayed with salted liquids: balsamic and red wine vinegar, lemon and lime juice, temporary fluorescent hair dyes – photos from friends Mark Titchner, Karen Russo, Aaron Moulton and Ignacio Uriarte and some google maps- texts by Jwest and Chris Markers' Sans Soleil script -shot by Peter West, strobed by Jwest, hands by Ariel West, telecine by Tom Sartori)'
2013, 9 minutes, 1 second
Courtesy of Jennifer West
16mm negative transferred to high-definition
Commissioned by Utah Museum of Contemporary Art
'Measuring Change'
James Benning | 2016, 61 minutes
Towards the end of 2015, James Benning made one of his occasional expeditions to Utah, to the place where Robert Smithson's colossal land-sculpture Spiral Jetty (1970) extends out into the Great Salt Lake. The water level was low, leaving the vast bulk of the Jetty exposed in the crisp air. His film measuring change captures two thirty-minute periods of that particular day, in the unblinking, unmoving takes that have become his trademark––beginning at 8:57am and 3:12pm respectively. A belated digital companion piece to his 16mm masterpiece casting a glance (2007), this new film hypnotically contemplates Smithson's artwork in relation to its wider environment and to the humans who walk on and around its gargantuan coils.
Courtesy of James Benning
Image: Amarillo Ramp'Bill Brown & Sabine Gruffat (2017)