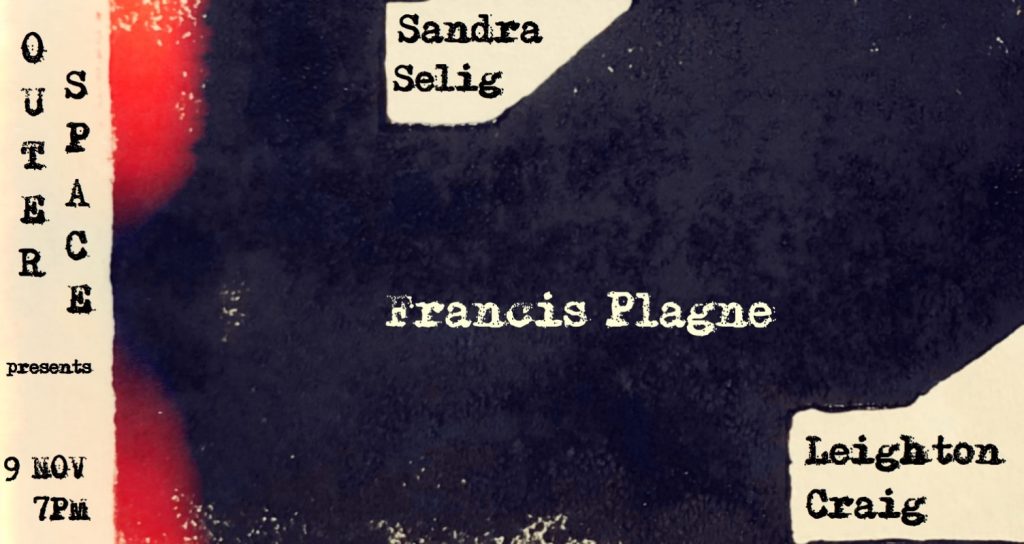 Outer Space presets an evening of sound in the community space featuring Melbourne artist Francis Plagne with local stalwarts Sandra Selig and Leighton Craig. Bring a cushion and a drink! Doors 7pm. $5 door charge with proceeds going to the artists. Cassettes and records available for sale on the night.
Francis Plagne is a musician from Melbourne whose work combines songwriting with a variety of other approaches, including group improvisation, instrumental abstraction and domestic musique concrète. An active part of the Australian underground music scene for over a decade, he has released recordings on Albert's Basement, Black Truffle, Breakdance the Dawn, Kye Records, Penultimate Press and his own Mould Museum label, among others, and recently released collaborative works with the Canadian sound artist crys cole and the British musician Andrew Chalk. His new album "Rural Objects" has just been released on the Hobbies Galore and Black Truffle labels.
Over the past 20+ years Leighton Craig has followed a low-tech/econo pathway to documenting keyboard works, songs, field recording and sound installation. He has also played in a clutch of key Brisbane outsider music combos, including inter alia The Lost Domain, The Deadnotes and Primitive Motion (with Sandra Selig). Following a handful of solo releases on the Room 40 label and his own Kindling imprint, his latest album "Diamond Eye" was released on French label Bruit Direct Disque earlier this year.
Visual and sound artist Sandra Selig has exhibited widely in Australia since 2000, creating works that explore the properties and perceptions of space. Her practice incorporates sound, video, installation, works on paper and other media. Sandra's work is held in major collections across Australia. As a musician, she has been a member of The Deadnotes and Primitive Motion for the past decade, and has more recently given solo performances in the MONO series at the IMA, and Open Frame 2019 at Carriageworks in Sydney.