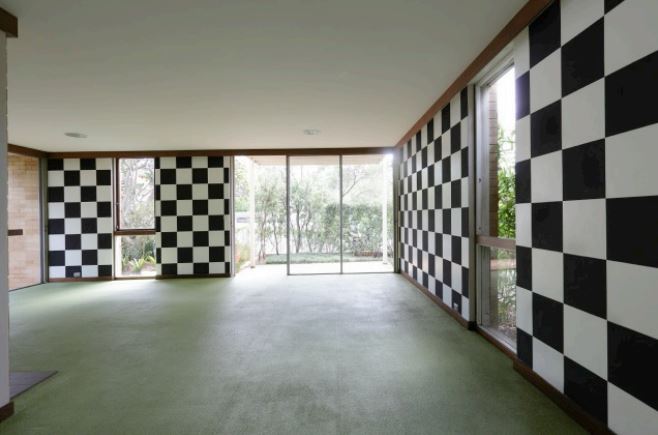 On the eve of Heimo Zobernig's spatial intervention for the Austrian Pavilion at the Venice Biennale 2015, David Pestorius is exhibiting a small survey of the Viennese artist's work in Australia, a period which now spans more than 15 years.
Heimo Zobernig (* 1958) is one of the most important inheritors of the Minimal-Conceptual Art legacy. His work, which has had a central presence in Documenta 9 (1992), Documenta 10 (1997) and Documenta 11 (2002), traverses a broad range of media — painting, sculpture, architecture, installation, video, design, and many others besides — critically continuing the reflexive program of Modernism. Adopting an approach that is playful, confounds expectation and is sometimes hilarious, there is nevertheless one constant in his work: he is always chipping away at the modes and mechanisms of the art system as we experience it.
Since first travelling to Australia in 1999 to oversee the construction of a 36 metre long signage piece for Brisbane's SouthBank Corporation, the artist has returned to participate in the Biennale of Sydney in 2004, the same year he collaborated with Ed Kuepper, co-founder of Australian punk group The Saints, on a video/performance that toured nationally and internationally. Zobernig was next in Australia in 2006 for a solo exhibition at Sydney's Artspace, which surveyed his intense engagement with the early Minimal-Conceptual work of Sydney artist Ian Burn (1939–93). Later in 2006 Zobernig made another large signage piece in Brisbane, this time for the TURRBAL-JAGERA exhibition at the University of Queensland Art Museum, while in 2008 he designed a functioning bar — an aspect of the artist's work cited by Nicolas Bourriaud in his influential text Relational Aesthetics — at the Institute of Modern Art for The Brisbane Sound exhibition. More recently, one of Zobernig's projection screen sculptures was the centrepiece of Reinventing the Wheel: The Readymade Century at Monash University Museum of Art in Melbourne in 2013, while Brisbane's MAAP–Media Art Asia Pacific presented a key Zobernig video/sculpture in its touring exhibition LandSeaSky: Revisiting spatiality in video art at venues throughout Australia and South East Asia in 2014-15.
This is a mere sampling of Heimo Zobernig's work in Australia, but it amply demonstrates the depth and sustained nature of his engagement locally. Remarkably, Australia's major art museums have felt unable to acquire the artist's work. One can only hope that Zobernig's Venice pavilion together with this exhibition will make clear the necessity to incorporate his work into our public collections.