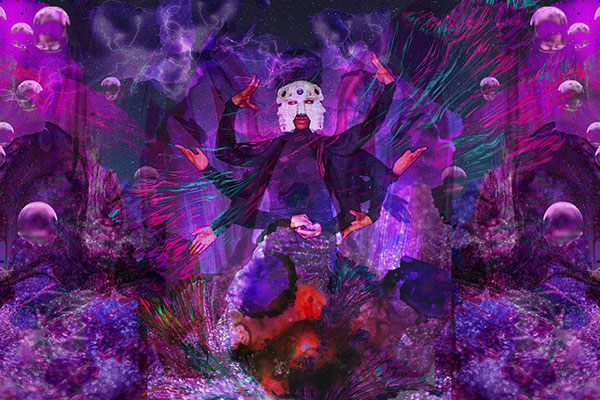 In Transit will transform Museum of Brisbane's (MoB) entry into a colourful celebration of cultural diversity and creativity. Presented in partnership with BrisAsia Festival, the exhibition and residency aim to provide a platform for conversation and reflection, using themes of intersectionality, language, displacement and reclaiming history as an opportunity for growth and healing.
Filipino-Australian artist Rhanjell Villanueva will create a captivating entrance to the Museum, combining queer-coded digital imagery and video in an immersive installation. Rhanjell's exhibition will explore the intricacies of pre-colonial history in the Philippines, highlighting the importance of preserving language and deep transcultural knowledge. Accompanying Rhanjell's exhibition, MoB will welcome Naavikaran as Artist in Residence. An all-round goddess, community facilitator, writer and creative from India, Naavikaran will develop events, workshops and performance-based responses to activate the space. Their community-focused projects are driven by a desire to create accessible and safe storytelling for identities of various intersections and communities.
Part of BrisAsia Festival, BrisAsia Stories is an initiative designed to explore Brisbane's evolving cultural identity through exhibitions, panel discussions and community engagement activations. The program shares stories that foster deeper cultural awareness and provides contexts for meaningful intercultural discourse, knowledge sharing and learning.
Image: Rhanjel Villanueva, Halo Halo 2020, digital photograph. 
Presented by Brisbane City Council in partnership with Museum of Brisbane (MoB). MoB's Artist in Residence program is supported by Tim Fairfax AC.