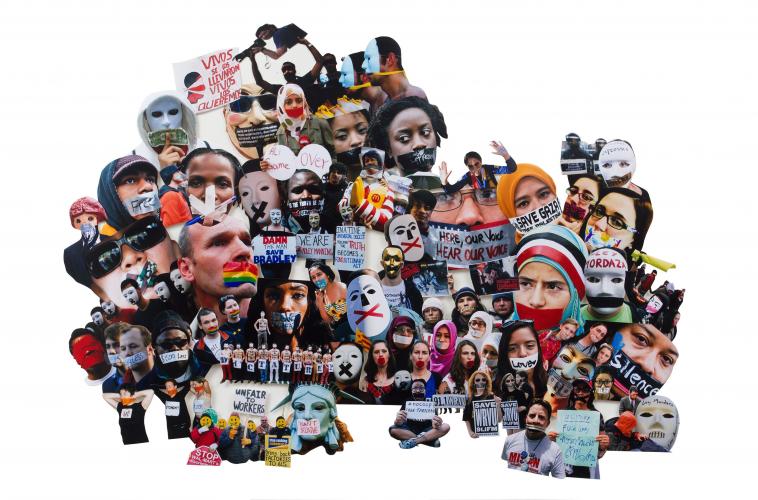 The exhibition will present new works by Jemima Wyman, including works on paper, wallpaper, collages, bronze talismans and textiles.
Jemima Wyman is a contemporary artist who lives and works between Brisbane and Los Angeles. Wyman completed her Bachelor of Fine Arts (in Visual Arts) with Honors at the Queensland University of Technology. In 2007, she graduated with a Master of Fine Arts from The California Institute of Arts in Los Angeles; this study was made possible with the generous support of an Anne and Gordon Samstag Scholarship.
In 2005 CamLab was formed, a collaboration between Wyman and Anna Mayer. Recently they participated in the Engagement Party series at the Museum of Contemporary Art, Los Angeles.
Wyman's individual art practice incorporates various mediums including installation, video, performance, photography and painting. Her most recent artworks utilize these mediums to specifically focus on visually based resistance strategies employed within protest culture and zones of conflict. These works aim to explore the formal and psychological potentiality of camouflage and masking in reference to collective identity.
Wyman is represented by Milani Gallery and has exhibited throughout Australia and internationally. Her most recent solo exhibition Effacing Powerwas held at Steve Turner Contemporary in Los Angeles. Past exhibitions were held at the Australian Centre for the Moving Image (Melbourne), Museum of Contemporary Art (Sydney), Plimsoll Gallery (Hobart), 21st Century Museum of Art (Japan) and Steve Turner Contemporary Gallery (Los Angeles). Wyman's work has been recently included in Direct Democracy at MUMA and as apart of the 17th Biennale of Sydney | THE BEAUTY OF DISTANCE: Songs of Survival in a Precarious Age. In 2012 for The Unexpected Guest: Liverpool Biennial Wyman was commissioned by FACT to make Collective Coverings, Communal Skin. This large scale project was generously supported by The Australia Council for the Arts, New Work Grant.
In 2014 Wyman was commissioned by the Children's Art Center at GOMA to make Pattern Bandits. In conjunction with the project a children's publication Pattern Power: Blending In and Standing Out was created that features historical references to the patterns Wyman uses along with artmaking activities.
Opening event: Saturday 1 August 2015, 4 – 6pm
Image: Taped Mouth (2015). hand-cut collage, 58 x 81 cm