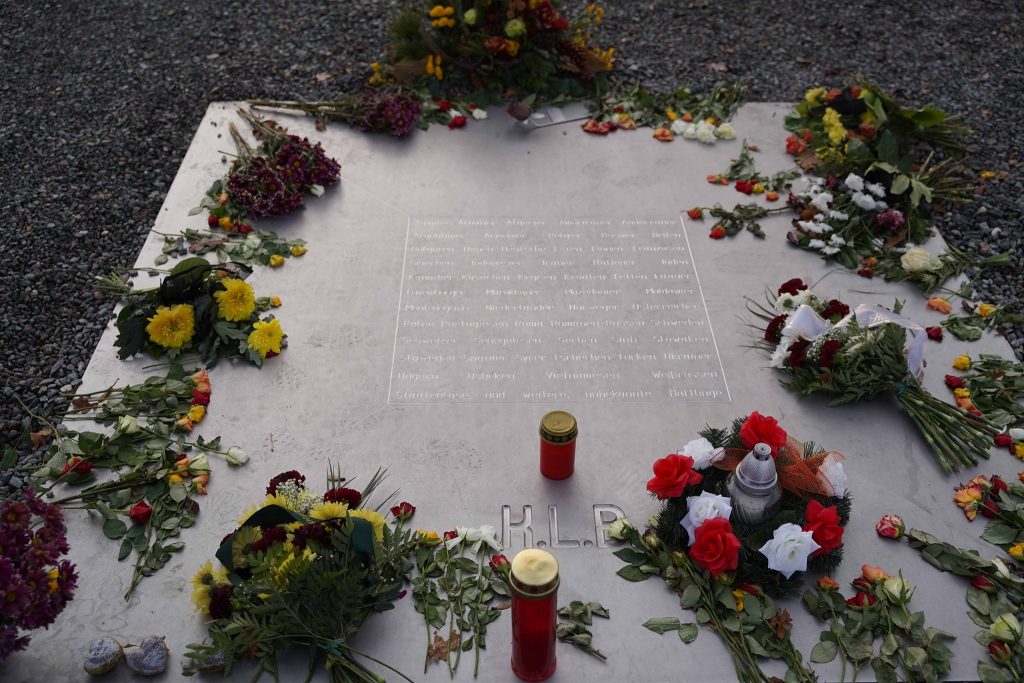 Gallery One A: 'Thoughts and Prayers' by Callum McGrath
'Thoughts and Prayers' presents a new two-channel video installation and photographic series. The exhibition follows the aesthetic trajectory of memorialisation and a de-linear reorganisation of queer protest. Organised around two memorials – the Frankfurter Engel and Buchenwald Memorial to all Inmates – the project questions the sentiment of public memorials and the ongoing destabilisation of queer politics globally. Mediated through archival video footage this project highlights the cyclical nature of history and critiques the role remembrance plays in that process.
Callum McGrath is a Meanjin (Brisbane) based artist who produces research-driven video, installation, images, text, sound, and sculpture that reimagine institutionalised aesthetics and functions of archives and historiography. Interested in the erosion of time and cultural memory, McGrath's video, photographic, and sculptural practice is placed in a dialogue with installation-based environments to describe how a queer lens can help us negotiate our relationship to the past.
McGrath has been featured in various solo and group exhibitions including: Responsibilities to Time, Boxcopy, Brisbane (2019); Toro, Milani CARPARK (2019); Queer Economies, Bus Projects and Centre of Contemporary Photography, Melbourne (2019); POOFTA, Metro Arts, Brisbane (2018); Cross-mending, Outer Space, Brisbane (2018); River Torrens, Institute of Modern Art, Brisbane (2018); Passing, West Space, Melbourne (2017); and HATCHED, Perth Institute of Contemporary Arts, Perth (2017); McGrath obtained a Bachelor of Fine Arts (Visual Art) with first class Honours at the Queensland University of Technology (2016). In 2019 McGrath was awarded the The Freedman Foundation Traveling Scholarship.
Accompanying text by Chelsea Hopper.
Gallery One B: 'Eternity is a child playing' by Kinly Grey
This intimate exhibition continues Kinly Grey's explorations of light phenomena and poetics, in reimagining one's relationship to the cosmos. Taking inspiration from Einstein's special relativity, the Greek philosopher, Heraclitus, and the current spatial alterations of daily life, Eternity is a child playing invites you to play, explore, discover, and delight in the elemental universe, and reimagine your power within it.
Kinly Grey works with light, smoke, metaphysics, and feeling. Their site-specific installations reimagine ways to understand the world through sensory experience and poetics. Based in Brisbane/Meanjin, Kinly has produced work for galleries and public spaces including Metro Arts, Home of the Arts (Gold Coast), Queen St Mall, and Enogerra Reservoir.
Accompanying text by Sidney McMahon.
Gallery Two: 'An Incomplete Register' by Ashley Perry
'An Incomplete Register' examines the impact of settler colonialism on institutional records. Each of the works in this exhibition are derived from stories and objects of the Yoolooburrabee (Quandamooka People), and challenge discrepancies and omissions within colonial institutional archives. For 'An Incomplete Register' Ashley Perry draws on several collection databases and external sources to reveal inconsistencies, producing quasi artefacts and fictitious records that operate in a speculative space wherein Indigenous authorship is reclaimed, and fragments of stories and objects from across time are merged.
Ashley Perry is an interdisciplinary Goenpul artist from Quandamooka country. He is Interested in decolonising theories as a way of understanding materials, histories, and artistic practice and examining knowledge structures and methods around collections. Perry works across sculpture, drawing, printmaking and new media utilising a wide variety of materials, from traditional processes such as copperplate etching to more contemporary such as .html programming.
He completed a Bachelor of Fine Art in Sculpture and Spatial Practice with honours at the Victorian College of the Arts. Perry has exhibited in galleries across Melbourne including Margaret Lawrence Gallery, West Space, Incinerator Gallery and the McClelland Gallery & Sculpture Park. He recently presented work in Florence, Italy for the First Commissions Project, the University of Melbourne. He was the recipient of the Mary and Lou Senini Prize in sculpture (2017) and the Fiona Myer Award (2017). in the In 2017 Ashley was awarded an exchange to the Indonesian Institute of the Arts, Yogyakarta as a part of the New Colombo Plan scholarship.
Accompanying text by Sophia Sambono.
Exhibition Dates: 22-24 May, 2020
Gallery hours: 4-8pm Friday-Sunday
Note: maximum 10 people in the galleries at any one time, strictly adhering to social distancing regulations
Image Credit: Callum McGrath 'Thoughts and Prayers' 2020.