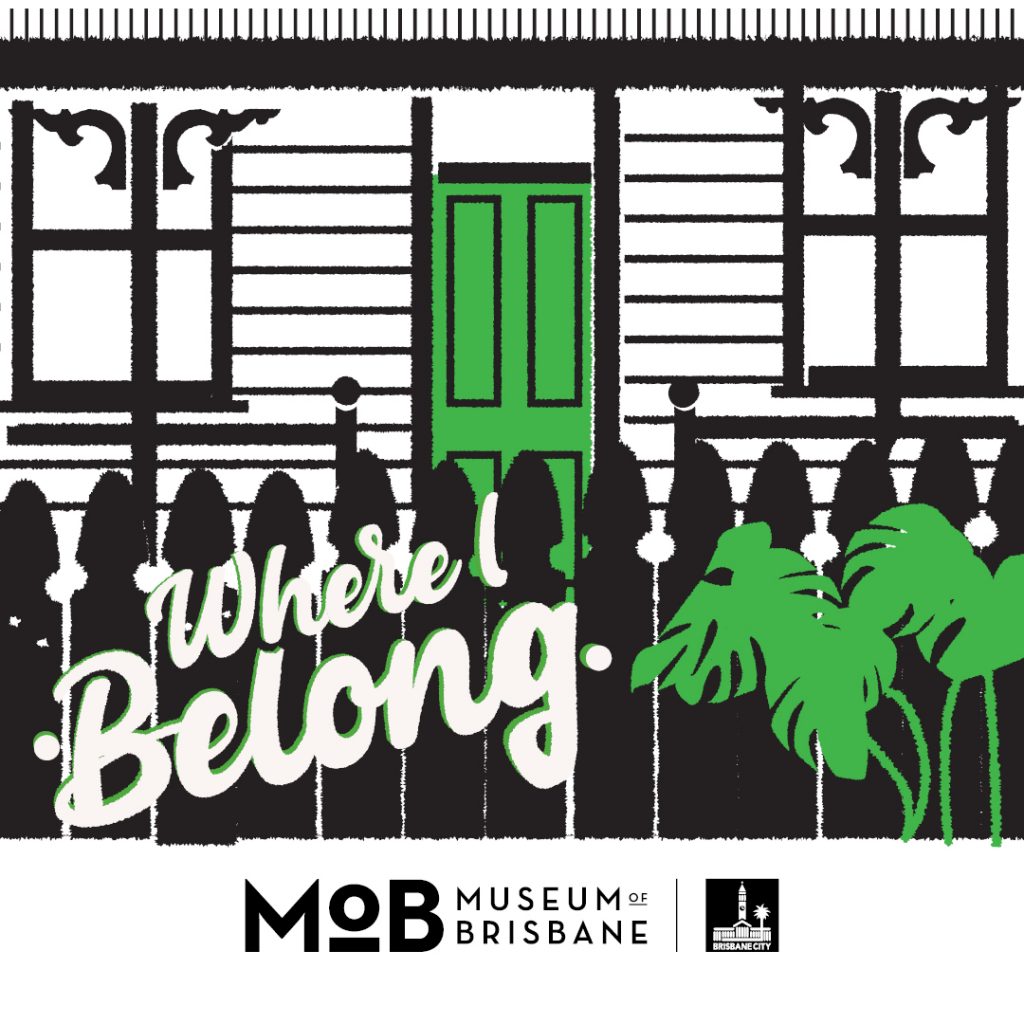 Explore a patchwork of diverse stories, cultures and perspectives with renowned storyteller, Wendy Love, as she interviews some of our city's most remarkable people whose life has been shaped by our city, for Museum of Brisbane's brand-new podcast series, Where I Belong.
Where I Belong features previously unheard stories about Brisbane and its people to inspire listeners to explore the Great South East (even if only from the comfort of their loungeroom), with the first six episodes starring Trent Dalton, Delvene Cockatoo-Collins, Sallyanne Atkinson AO, Michael Zavros, Jenny Woodward and Wesley Enoch AM.
Hear for the first time the sliding door moment that changed the life of celebrated author Trent Dalton, or how the first and only female Lord Mayor, Sallyanne Atkinson transformed Brisbane into the city that lives and plays along the river.
Be inspired and challenged by Michael Zavros as he reveals a decade long creative partnership with his daughter Phoebe and dive into the on and off-screen life of Brisbane's authority on weather, Jenny Woodward.
Other riveting episodes in the series feature writer and director Wesley Enoch AM's amazing career path and coming back home, as well as fellow Quandamooka artist Delvene Cockatoo-Collins on the evolution of her artistic practice and how her family has played a major role in that.
Host and Producer, Wendy Love acts as narrator and interpreter for these stories and has succeeded in weaving unheard and inspiring tales from each of her interviewees to share different perspectives of our city, which can be enjoyed by those who call Brisbane home or those with a love for great storytelling.
Museum of Brisbane is central to conversations about the evolving life of Brisbane, its histories, and contemporary cultures, and Where I Belong has taken this storytelling out of Level 3 of City Hall and into listeners homes, commutes and across all good streaming platforms.
Find a quiet spot in your day, plug in, and follow the journeys of those who have found purpose, made unexpected changes and celebrated the landscape and communities of this great city. Their narratives traverse Brisbane's broad reach: along the river, over the hills and out to the islands.
The first six episodes are available for free now on all your favourite streaming sites or on Museum of Brisbane's website: www.museumofbrisbane.com.au/where-i-belong-podcast/
About Wendy Love
Wendy Love (host + producer) is a journalist, audio producer, and storyteller who has worked in Australia and the United States. Born in California, Wendy was a reporter and producer for NPR affiliate Houston Public Radio (USA). Her work also aired on American Public Media's Marketplace. She first came to Australia in 2003 and, in recent years, produced The Art Show for ABC's Radio National and a blog relating stories of non-profit and social enterprises. Wendy lives in inner Brisbane, the longest place she's ever called home.