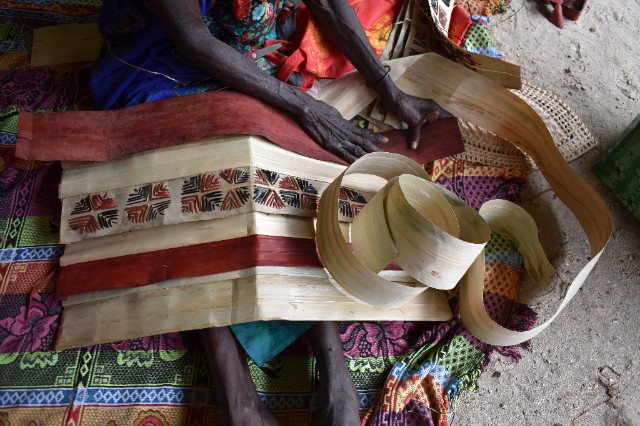 Major new works by artists Jonathan Jones (Australia), Aisha Khalid (Pakistan) and Iman Raad(Islamic Republic of Iran), as well as two projects involving more than 30 women artists from the Pacific, will be among the highlights of 'The 9th Asia Pacific Triennial of Contemporary Art' (APT9) when it opens at the Queensland Art Gallery I Gallery of Modern Art (QAGOMA) on 24 November this year.
Announcing the first cohort of APT9 artists, QAGOMA Director Chris Saines said the latest chapter in the Gallery's flagship exhibition series would include new and recent work by more than 80emerging and established artists, collectives and filmmakers from more than 30 countries.
'Building on the legacy of previous Triennials, we're thrilled to present the specially commissioned Women's Wealth Project, that will introduce audiences to the unique cultural and artistic practices of women artists from the Autonomous Region of Bougainville (AROB) and nearby islands in the Solomon Islands archipelago,' Mr Saines said.
'Cane and pandanus weaving, shell ornamentation, pottery and body adornment will feature in this project, as well as an immersive multi-channel video installation by rising star, AROB/Australian artist Taloi Havini, and drawings created from the 1930s through the tragedy of the Bougainville Crisis in the 1990s to today.
'Supported by an Australian Cultural Diplomacy Grant, the Women's Wealth Project developed out of a week-long workshop initiated by QAGOMA in Bougainville, and it highlights the significance and endurance of women's creative practices in this locale, expressing a quiet but powerful resilience in the face of major historical and political change,' he said.
'Now in its twenty-fifth year, the Gallery's Asia Pacific Triennial of Contemporary Art continues to be an important showcase of the freshest, most exciting new work being produced in Asia, the Pacific and Australia, and a significant highlight on the international and national arts calendar,' Mr Saines said.
Queensland Minister for the Arts Leeanne Enoch said QAGOMA's Triennial was an important celebration of the cultural contribution of contemporary art.
'APT presents a wonderful opportunity for visual artists from across Australia and the Asia Pacific to collaborate and share works that are a powerful expression of their cultures and experiences,' Ms Enoch said.
'The Triennial makes a significant contribution to Queensland's standing as an international arts destination. It's also a significant contributor to cultural tourism with the last Triennial – APT8 – generating almost $22 million for the Queensland economy.'
Among the other must-sees in APT9 will be an immersive installation and soundscape by Wiradjuri/Kamilaroi artist Jonathan Jones in collaboration with his long-time mentor Wiradjuri Elder Dr Uncle Stan Grant Snr AM. Jones' large-scale work includes hundreds of hand-made objects and explores the Wiradjuri gulbanha (philosophy) of dhawura (wind).
Aisha Khalid, one of the most respected and sought-after Pakistani artists working today has created a major new work for APT9, a striking large-scale sculptural tapestry. The monumental work, created with fabric and gold and silver pins, weighs up to 200kg and has been commissioned with support from The Myer Foundation to commemorate the 25th anniversary of QAGOMA's Kenneth and Yasuko Myer Collection of Contemporary Asian Art.
Also showing in Australia for the first time, Iranian artist Iman Raad's fantastical mural installation will draw audiences into a vivid landscape of riotous colour, populated by a seductive, graphic array of birds, fruits and flowers intertwined with social and historical references.
New Zealand artist Anne Noble's fully functioning bee hive, large-scale photograms and 'Museum of the Bee' will focus on of the importance of the honey bee for life on our planet while The Jaki-ed Project, developed with poet and environmental activist Kathy Jetñil-Kijiner, will introduce audiences to the cultural significance of Jaki-ed weaving and its connection to the traditional spiritual and social structure of Marshallese life.
Free, and curated for audiences of all ages, APT9 will be presented across the entire Gallery of Modern Art (GOMA) and key spaces in the Queensland Art Gallery (QAG) until 28 April 2019.
APT9 will also feature an extensive cinema program, interactive artist projects for children and families in APT9 Kids, an all-ages Summer Festival including Up Late events and dynamic public programs including a two-day opening weekend, symposium, artist and curator talks, and workshops.
As with previous exhibition chapters, APT9 will highlight new and expanding creative centres in the region. It will include artists from Laos for the first time and have the largest representation of artists from Bangladesh and the Pacific in an APT to date.
APT9 will feature a wide range of art forms and give particular focus to artists exploring the ongoing presence of spirituality in digital times, the multiple ways that wealth, value and labour operate, the agency of the body, and concerns for others as well as the vulnerability of the natural world.
The first group of artists announced for APT9 are:
Zico Albaiquni, b. 1987, Indonesia, lives Bandung.
Martha Atienza, b. 1981, the Philippines, lives Madridejos and Rotterdam.
Lola Greeno, b. 1946, Australia, lives Cape Barren Island and Launceston.
Joyce Ho, b. 1983, Taiwan, lives Taipei.
Kathy Jetñil-Kijiner, b.1987, Republic of the Marshall Islands, lives Oregon.
Jonathan Jones, b. 1978, Australia, lives Sydney.
Aisha Khalid, b. 1972, Pakistan, lives Lahore.
Kim Beom, b.1963, Korea, lives Seoul.
Meiro Koizumi, b.1976, Japan, lives Yokohama.
Anne Noble, b.1954, Aotearoa New Zealand, lives Wellington.
Pangrok Sulap, est. 2010, Malaysia, based Ranau, Sabah.
Iman Raad, b.1979, Islamic Republic of Iran, lives New York.
Lisa Reihana, b. 1964, Aotearoa New Zealand, lives Auckland.
Hassan Sharif b.1951, Islamic Republic of Iran, d. 2016, Dubai.
Tcheu Siong b. 1947, Laos, lives Luang Prabang.
Ayesha Sultana, b.1984, Bangladesh, lives Dhaka.
Latai Taumoepeau, b.1972, Australia, lives Sydney.
Munem Wasif, b.1983, Bangladesh, lives Dhaka.
Boedi Widjaja, b.1975, Indonesia, lives Singapore.
Pannaphan Yodmanee, b.1988, Thailand, lives Nakorn Pratom.
Zheng Guogu, b.1970, China, lives Yangjiang, Guangdong Province.
Women's Wealth Project (Autonomous Region of Bougainville, Solomon Islands and Australia).
The Jaki-ed Project (Republic of the Marshall Islands).
In 2015–16, APT8 recorded over 600 000 visitors, and since its inception in 1993, the APT series has attracted more than 3 million visitors, a third of whom have travelled from interstate and overseas to experience the exhibition. For more information visit www.qagoma.qld.gov.au/apt9
APT9 is made possible with the support of Founding Supporter the Queensland Government, and Principal Partner the Australia Council for the Arts. Women's Wealth is supported by the Gordon Darling Foundation, and the Australian Government through the Australian Cultural Diplomacy Grants Program of the Department of Foreign Affairs and Trade.