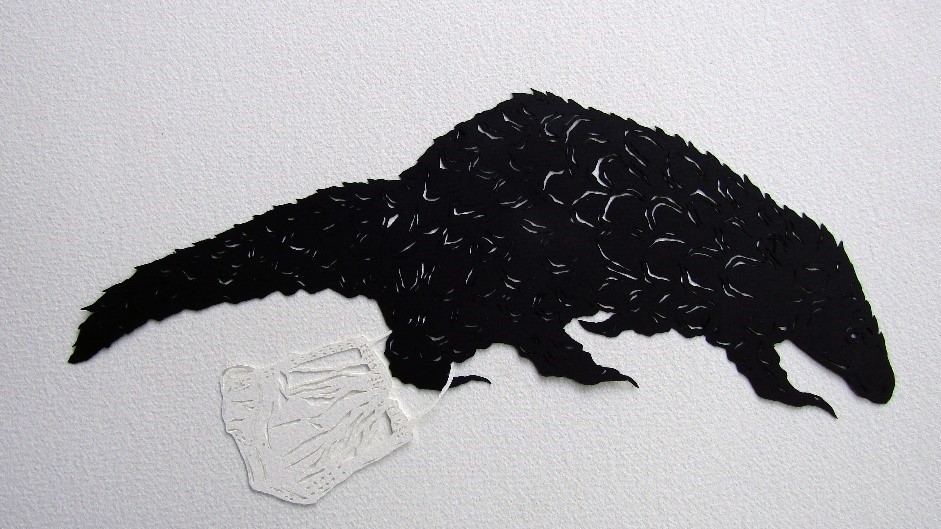 This exhibition by Pamela See (Xue Mei-Ling) contains narratives of adaptation, survival and reinvention. The title, Still. Living is a word play on the French 'nature morte' or still life. The form of painting, which depicts objects, emerged in Egyptian tombs during the fifteenth century BCE.
The exhibition is entirely comprised of papercut installations. The genesis of this similar attempt to engage immortality through depicting objects was Western China between the thirteenth and seventh centuries BCE.
The substrate for cutouts in China evolved from gold foil, to silk waddings, to hemp parchment. Although modern pulp strained paper was invented during the second century papercutting, in the form we recognise today, evolved between the fourth and sixth centuries.
Paper effigies, which replace genuine offerings with representations, have become commonplace at funerals and calendar observances for ancestral worship such as Qing Ming.
In addition to using a traditional Chinese craft as opposed to painting, the inconsistency with nature morte also includes depictions of animate fauna. In some compositions, they are illustrated interacting with inanimate objects. In others, the wordplay on 'life' as in still life, refers to survival.
The subjects, in the face of calamity are 'still li[ving]'. Reflecting the zeitgeist of the COVID-19 pandemic, the narratives examined in this exhibition include: (i) the Renaissance emerging from the Black Plague in Europe, (ii) the recent switching of political-economic models in Australia, and
(iii) the global environmental impact of single use personal protective equipment (PPE).
Over the past two decades See has been contributing to exhibitions across Australia, Asia, North America and Europe. This includes initiatives at the National Portrait Gallery in Australia, Qing Tong Museum in China, the Museo Gustavo de Maeztu in Spain, the International Studio and Curatorial Program (ISCP) in the US, and Arteriet in Norway. Collections to house papercuts by See include the National Gallery of Australia, the Australian War Memorial, the Art Gallery of South Australia, the Museum of Brisbane and the Hua Xia Papercutting Museum in China.
To view the online exhibition, please click – HERE
Image: Pangolin (2020) Cansons mi teintes and arches watercolour paper. 12 x 33cm.