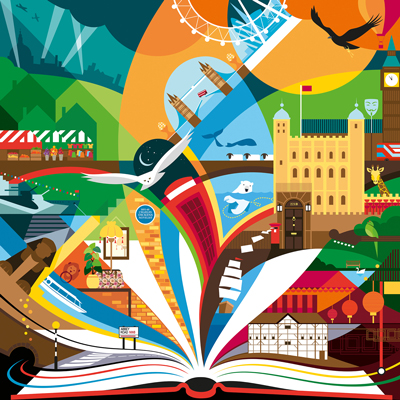 We are delighted to announce that submissions are now open for the Poster Prize for Illustration 2019, in partnership with London Transport Museum (LTM).
This year the theme is London Stories.
Across the ages, London has produced and inspired countless stories. Fictitious or real characters and events in this amazing city have always held a fascination, from the anecdotal urban myth to grand tales of historic legend – from the everyday to the curious, and from the past to the present. The aim of the Poster Prize for Illustration competition 2019 is to attract artwork for display that is colourful, inspiring and celebrates the vibrant, multi-layered city that is London.
Artists are invited to visually capture a familiar or lesser-known narrative in a single image. All stories, current or historical, real or fictional which feature this amazing city are welcome – your imagination is the limit. Stories could be those seen in a film or play, heard in poetry or music, or read in literature. They may be family anecdotes, or an impression of your daily observations. Your visual story could be inspired by London's history or contemporary city living. What stories does London have to tell?
Impress the jury with your illustrated interpretation of a London story and be in with a chance of having your work displayed at the famous London Transport Museum and winning the top prize.
Prizes will be awarded in three levels:
First prize: £2,000 and feature of the winning image on a London Transport Museum poster to be displayed on the London Underground
Second prize: £1,000
Third prize: £750
There will also be a special public vote Museum Collection Prize. Details to be announced when the exhibition opens.
There is also the possibility that shortlisted images will be featured on merchandise sold in London Transport Museum's Covent Garden and online shops.
The competition is open to illustrators and students of illustration throughout the world. The top 100 entries selected by a panel of judges will be displayed in an exhibition at London Transport Museum that will run from February to Summer 2019. The winners will be announced at an event during the exhibition opening week.
The Poster Prize for Illustration continues Transport for London's legacy of design that dates back over 100 years. London Transport Museum's collection of graphic art is one of the best in the world and includes over 5,000 posters and artworks by famous artists including Man Ray, Laura Knight and Edward McKnight Kauffer.
Please read the conditions and terms of entry carefully. You will be asked to agree to them before you can submit your image to the competition.
Enter your work here. It easy and free of charge.