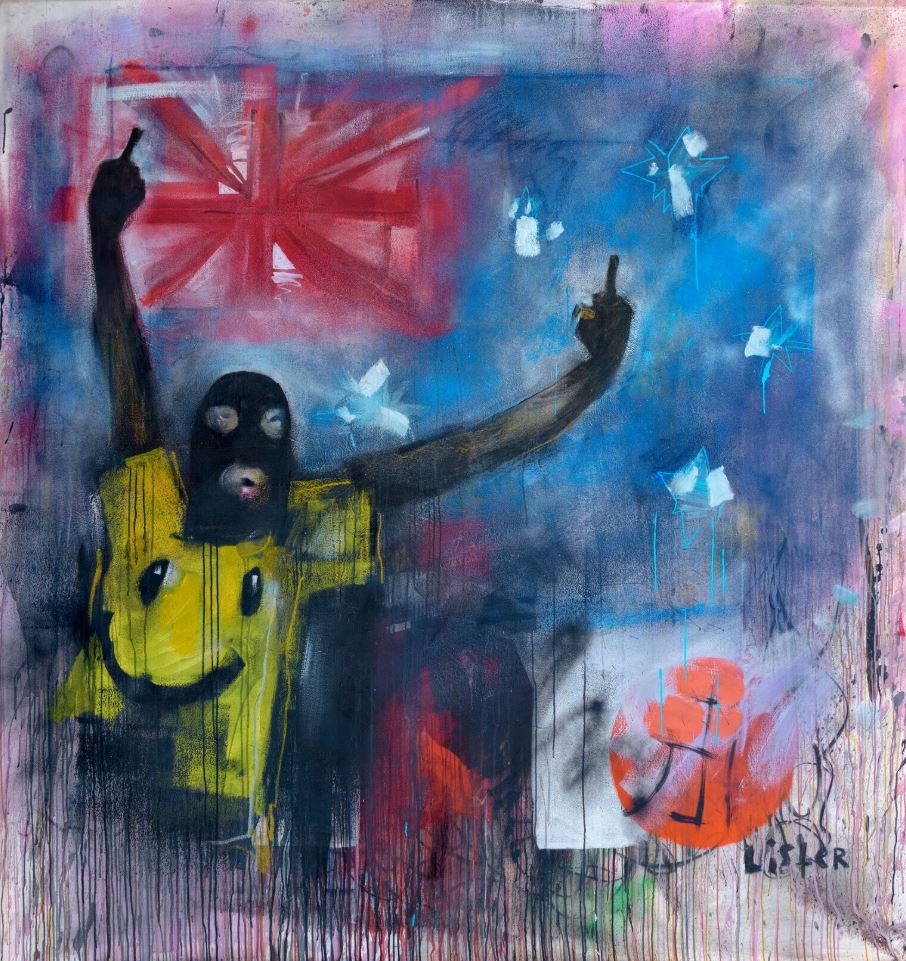 Punch the Clock brings together five Queensland artists in a provocative exhibition that highlights some gritty issues and a range of perspectives on our communal histories including racial stereo-typing and social divisions.  Ultimately it advocates the contemporary artist as a frontier fighter in the world of popular culture and considers their artwork as a documented portal of resistance.
As one of the exhibiting artists Pat Hoffie, who is showing a series of complex figurative watercolours, has said in a recent text:
Some artists are among those who work outside the work-a-day-world of number crunching, post-analogue-clock awareness. They sift through the fields of the past stooped like post-apocalyptic gleaners, retrieving bits and pieces of this and that; shards of discarded memories; broken pieces of hope; tiny left-overs of dreams. They pick them up and assemble other kinds of time-pieces – images and words and hopes and dreams that connect the now to the past and future. They give us visual languages that allow us glimpses of new ways of responding to the constant 'now-ness' of the days we currently live in.
Two artists hailing from FNQ, Paul Bong and Jennifer Herd have both used the metaphor of their respective traditional rainforest shields: depicted as both a defence weapon and an emotional shelter. Paul Bong's epic work Memories of Oblivion (Blood Splatter) is a gorgeously detailed print suite of five panels, visually arresting with unmistakeable elements of cultures colliding – the coloniser's flag embedded within the deep indigenous core. Jennifer Herd in Irvine Creek Massacre has used fragments of her FNQ shield imagery, but by sewing threads and tiny buttons into the richly painted canvas panels, such 'domestic work' highlights a knitting together of hidden secrets and cultural threads.
Punch the Clock is also an opportunity for FWG to showcase Some People are Stories by Vincent Serico, a collection of 22 prints and texts held in a magnificent bound folio created posthumously in 2009. A framed set of these iconic works, along with original paintings is currently touring regional Galleries in Queensland. The Folio is now on display in this show for Brisbane viewers.
Curator Michael Eather has said: Vincent Serico (1946-2008) was a history painter who endured many struggles in his life with poverty and alcohol, yet as an artist didn't take the high moral ground. Beneath the surface of his astonishing visual combinations we see an artist willing to cross the divides of both time and cultures, in order to extract the hidden tales this country still holds for many.
Anthony Lister is no stranger to scaling walls either in his home town Brisbane, his current home of Sydney or New York where he regularly exhibits. Lister he will go out of his comfort zone to paint images and present his distinctive images as stark renditions of the now. His new canvas works for this exhibition touch on issues of mortality and racial collisions, including a montage of Picasso's Guernica imagery and the landing of Captain Cook.
Punch the Clock wraps up a momentous 2018 for FireWorks Gallery – our 25th anniversary year; a relocation to fabulous new premises, and a rekindling of our favourite exhibition formula: showcasing a culturally diverse mix of artists in a no nonsense fashion as direct action to inform and inspire our broad audience base.
Image: Anthony Lister  Drive through windows  2014  acrylic & mixed media on canvas   194x194cm