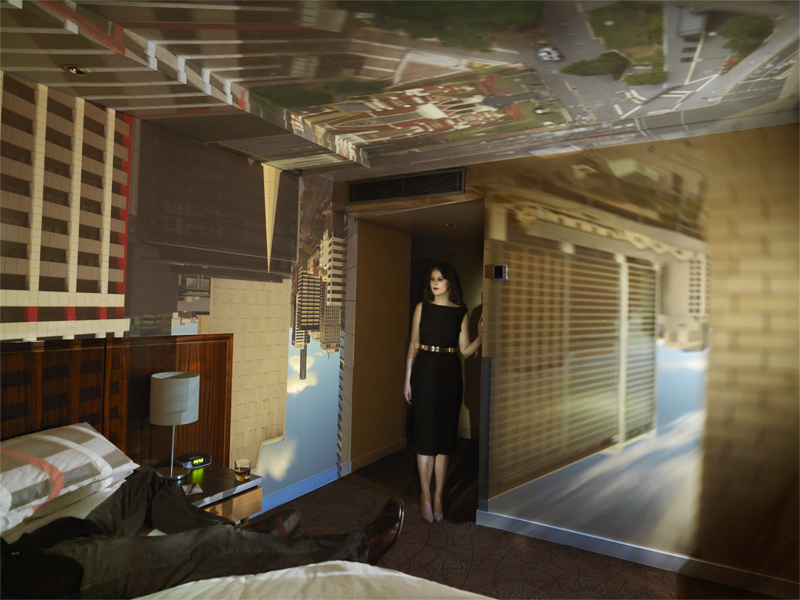 Through Robyn Stacey's photography we imagine other people's private worlds.  Stacey brings our gaze to contemporary life and the transitory meetings of private and public worlds within the modern hotel room. By turning the hotel room into a camera obscura, the name given to the phenomenon whereby an image of the surrounding world is projected onto a wall in a darkened room, the interiors of Brisbane high-rise city hotel chains and Sunshine Coast holiday apartments are transformed into darkrooms for dramatically projected landscape vistas which literally wallpaper the room
. 
Because light travels in a straight line, the camera obscura projects an upside down reversed image of the external world onto the walls and roof of the hotel room creating a surreal or hyper real space within a fairly prosaic and generic hotel room. Colonnades of buildings, cityscapes of roads and parks, well known landmarks like Anzac Square, the Albert Street Methodist church and Customs House as well as everyday life are visually inserted into the closed and autonomous insularity of the room.
Underlying the hermetic nature of the hotel room is the awareness of its transient nature, whether it is experienced as a mode of transit between source and destination, or as the constructed world of inward-directed experience it is a world with a time limit, surrendered to the temporary and ephemeral.
The fleeting nature of the camera obscura corresponds to the brief nature of the guest experience. Businessmen, young couples, and solo travelers are actors in these dreamlike scenarios; the upside-down, reversed and distorted visual effects of the camera obscura, produce surreal and psychological spaces which seem to materialize their inhabitants' distant thoughts. "Like stills from the sets of movies, the images offer us fragments of untold narratives. Intimate and enigmatic moments glimpse the plethora of stories we can only imagine might play out within a hotel rooms' four walls. Through the theatrical and distorted view of the camera obscura is revealed a roving, fragmented and homogenized portrait of contemporary life. But by imbuing the transitory with the timeless, Stacey suggests that behind these closed, generic doors, we may all be looking outwards, seeking moments of beauty, clarity and meaningful connection. "
The Brisbane hotels that generously participated in Guest Relations were the Sofitel Brisbane Central, Brisbane Marriott, Pullman King George Square, and the Mercure Brisbane.
Image: Room 1412 Mercure Hotel – Guest Relations Brisbane, Type C print 100 x 133 cm, edition of 5 

For further information:  
+617 3831 3060  
jan@janmantonart.com  
www.janmantonart.com