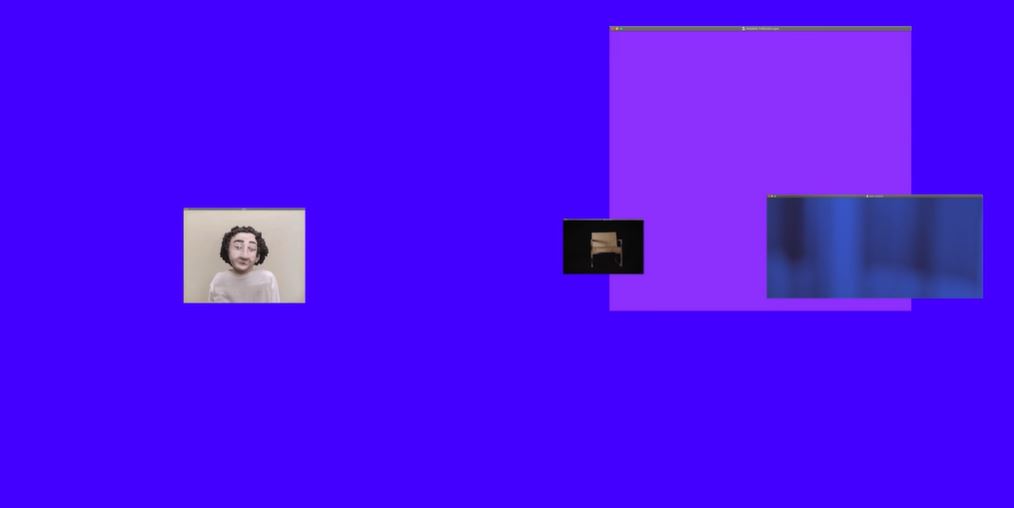 In Passing Through (2022), Sarah Poulgrain reimagines recent sculptural and video works as a series of playful digital artefacts to invoke a boundless psychological locale where one's process can continue to evolve, mutate, and adapt without a definite end or format. In conversation with the windows of the Judith Wright façade, digital file windows float against a striking neon blue backdrop, a shade oddly akin to an idle desktop computer screen. On the left, a video window reprises the work 16 in 4 parts (2017) – starring the lively clay bust of the artist's mother –, while a much smaller window to the right loops the final documentation video of one of three chairs welded by Poulgrain in A Set of New Skills: Chair Making (2019), an evolving project where they seek to learn and share the experience of building new skills alongside other artists.
Poulgrain's sculptural tyre imprints made by retired Brisbane CityCycle bikes in Aluminum casting (2021) comb across the canvas unannounced, their motion uncannily like the hypnotic trail of one very infamous screensaver. At the same time, a towering desktop window doused in RGB magenta sits in a perennial reboot state. To the right, a file with diaphanous curtains billowing on loop are titled instructively, KEEP LOOKING.
The composite scene re-invents the façade as a mental canvas, where thinking, making and re-making are not considered linear nor permanent. Rather, they are interchangeable parts of a whole operating in continuous motion, like clouds passing through a staunch Brisbane summer day.
Sarah Poulgrain's art practice considers labour and art. Poulgrain works across video installation, ceramics, sewing, animation and audio production. Their recent work is focused on skill-sharing methodologies as a method to form respectful relationships and create less-hierarchical spaces for learning. Poulgrain has exhibited nationally and internationally including the Institute of Modern Art, Firstdraft, Outer Space, Boxcopy, Metro Arts, Success, Visual Bulk, Bus Projects, RM and Desire Lines, and has co-founded Wreckers Artspace with Hailey Atkins and Anya Swan. In 2019 Sarah received an Australia Council Individual Project Grant to develop new work and has continued work on long-term Brisbane based projects.
Image: Sarah Poulgrain, Passing Through (2022). Video Still.