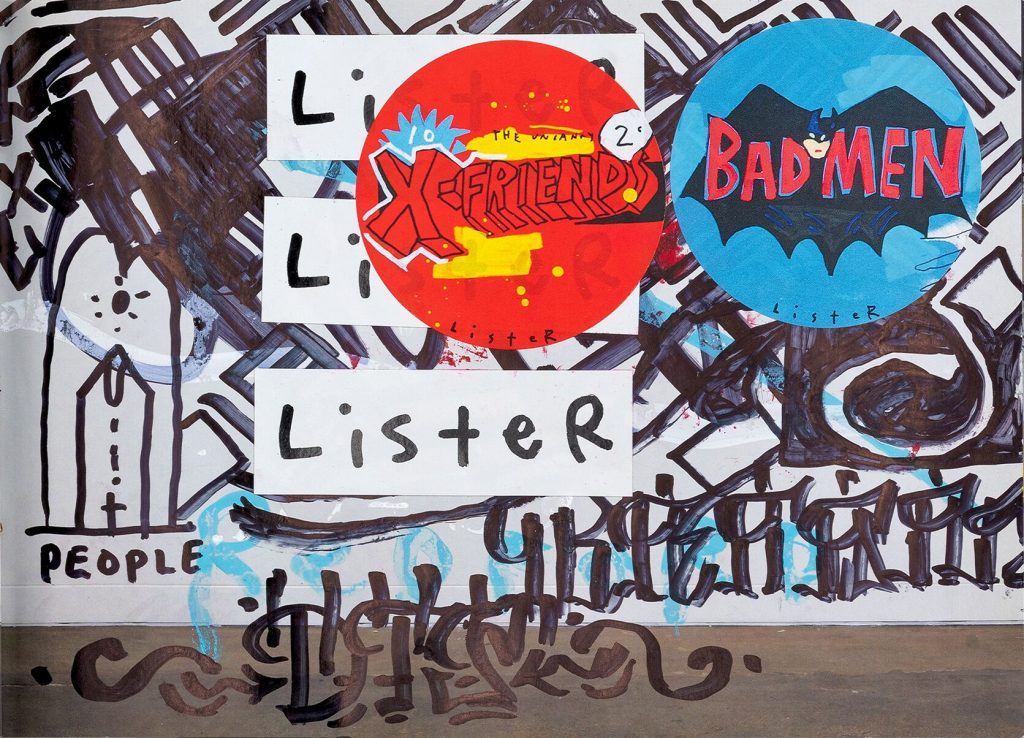 Continuing FireWorks Gallery's Matches 2019 series of paired solo exhibitions, Matches 3 will present Brisbane-born artist Anthony Lister alongside Brisbane-based artist Scott Redford under the banner BAD Boys. New (individual & collaborative) artworks displayed will showcase a diversity of mediums including printmaking, photography, sculpture, painting and installation. Lister and Redford, who are friends as well as mentors, are each widely known for their provocative attitudes and pop culture interests. BAD Boys promises to engage and enthral audiences through the artists' brash use of appropriation, humour, and their 'critique of fine art'.
Redford's ARTCASTS (Images 1 & 2) features a new series of prints, which will be displayed on the mezzanine level. The images were sourced from Lister's brazenly graffitied pages of an original exhibition catalogue (Bricks are Heavy, 2006) of Redford's. Whilst Lister's somewhat 'smutty' images and texts may be unsettling in their appearance, this 'interruption' bears the classic hallmarks of Redford's post contemporary thinking. Indeed, Redford comments about the immediacy of this work, "Nicolas Bourriaud (French curator) once said that the most interesting art was that which could change with each new situation it found itself in. This is what sets Anthony Lister apart from mainstream Contemporary Fine Art. Lister's work moves from the street in to the gallery and then back on to the street. I was thrilled when Lister "vandalised" my catalogue because it then meant this work was freed to move rather than stay fixed in Fine Art."
Lister's THE KELLY SERIES MINUS FIVE based on Sidney Nolan's Ned Kelly series will be showcased on the ground floor of the gallery. The artist comments "Here I chose to repaint and edit (in my own style) some of the most famous paintings made about the legendary tale of the Australian outlaw Ned Kelly and the Kelly Gang originally painted in 1946/47". As well as a charming and intimately sized suite of 22 acrylic on canvas paintings (Image 3 & 4) Lister has created a life-size 'Listeresque' Ned Kelly armour from recycled materials, one epic 3.5m painting (Image 5) as well as a video titled Am I under arrest or am I free to go. Interested in the concept of 'rebellion' in the Australian psyche, the artist's work explores the palpable dichotomies of truth, justice & the law vs folklore & legend; cops vs robbers and "us vs them". These themes underpin the artists imagery of notorious super hero and masked identities. No stranger to controversy himself, Lister's highly recognisable and often defiant street and fine imagery is championed world-wide.
BAD Boys will also display a series of five medium-sized collaborative works by Redford and Lister titled House of the Rising Son (Image 6). Completed between 2013 and 2019, Lister has 'graffitied" over (a glass framed set) of Redford's iconic 2001 Urinal photographs. A blatant, if not scathing, critique of the institutional sexual abuse scandals which have engulfed the media for decades, these works appear automatically loaded to the urgency of prescient outrage.
FireWorks Gallery Director, Michael Eather comments that, "It is always fascinating with these two BAD Boys as they continue to swap roles and play identities on and off one another. Indeed, the whimsy and fun in some of their work can hit you like a sledge hammer! As artists they are always taking risks. Audiences continue to champion this attitude!"
Image: Scott Redford & Anthony Lister ARTCASTS (Bad …ick Richards