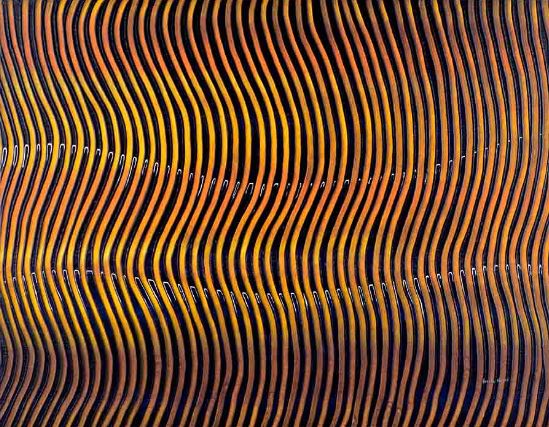 An exhibition featuring artists:

Rosella Mamok
Rosella Mamok first appeared on the contemporary art scene in the late 1990s to become the most successful artist to come out of Far North Queensland's renowned Lockhart River 'Art Gang'. Her paintings revolve around several narratives relating to social, physical, and natural environments. It is thorugh her finger patterned linear arrangments that Rosella creates her signature designs. The artists works are currently held in private and public collections both nationally and internationally including the Art Gallery of New South Wales, Sydney, National Gallery of Australia, Canberra, The Kluge-Ruhe Aboriginal Art Collection of the University of Virginia, Charlottesville, Virginia, USA and Columbus State University, Georgia, USA.
I studied painting and installation at Brighton Faculty of Art, UK, graduating with a BA(Hons) in 1992, and was chosen to exhibit at the 'Great British and Dutch New Contemporaries' Holland in 1991.
For the two decades post college, I used my creative sensibilities to develop animated characters for both George Lucas in the USA, and George Miller in Australia, on movies such as Star Wars, The Mummy, and Happy Feet 2.
In 2012 I renewed an art practice, immersing myself in the sensation of colour.  The images are abstract, hand-painted horizontal lines; a simple geometry with an imperfect human edge.  I use oil on canvas, layering multiple glazes, increasing complexity within the simplicity. This considered process heightens colour resonance, intensity and translucency, creating paintings that seek the exquisite.
Yvonne is a Queensland artist who lives and paints at Mt. Glorious, near Brisbane. She began exhibiting in 1981 and since then has maintained a consistently strong painting practice and exhibition schedule. Her most distinctive paintings are the grass series oil works, begun in 2004. This series is concerned with the colour, structure and movement of grass, and the relationship between areas of where grass has once been and where grass is now travelling to. Her works are currently held in private and public collections both nationally and internationally, including in Parliament House, Canberra, and University of the Sunshine Coast.