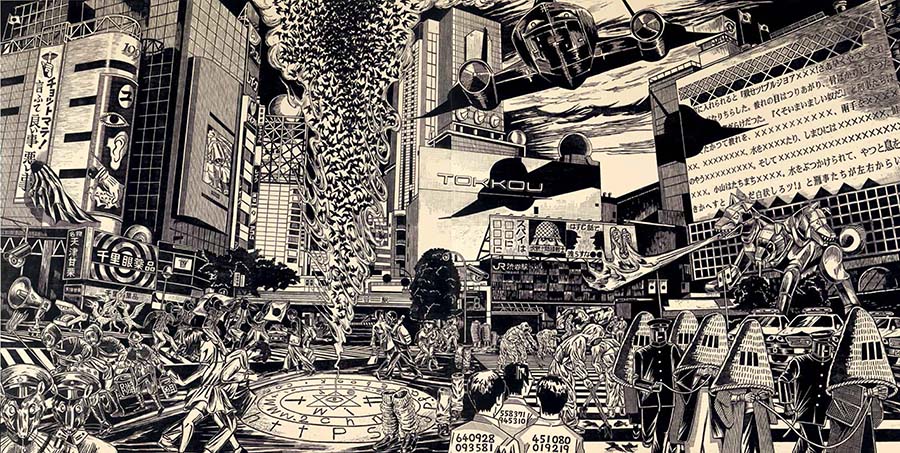 'We can make another future: Japanese art after 1989' surveys the art of Heisei, the current era in the Japanese imperial calendar, through the presentation of around 100 works by over 40 contemporary Japanese artists, drawn from the Queensland Art Gallery Collection. Increasingly cosmopolitan in character and operating with an unprecedented level of international mobility, the art of this period offers a sophisticated reflection on the social conditions behind art's production in Japan and the anxieties that accompany them.
Beginning in 1989, Heisei has seen significant challenges for Japan, as the country has negotiated the collapse of the 'bubble' economy and a social uncertainty exacerbated by a series of man-made and natural disasters within a rapidly changing region. But it has also been the period of 'Cool Japan', with widespread international interest in Japan's contemporary cultural production, while opportunities have emerged for closer engagement with its neighbours in the Asia Pacific.
As well as 25 years of Heisei, 2014 also marks 25 years of the Gallery's public engagement with the contemporary art of Japan through the landmark 1989 exhibition 'Japanese Ways, Western Means', the Asia Pacific Triennial of Contemporary Art series, and other exhibitions, along with the development of a significant collection of works by some of the period's most important artists.
'We can make another future' draws on the specific composition of the Gallery's Collection to propose several overlapping frameworks for considering this fascinating period in Japanese history through the art of an extraordinary time. The exhibition explores the emergence of an aesthetic of the digital sublime; responses to the rich field of consumer culture and new technologies of representation and communication; and critiques of national and sexual identity, which through figuration and performance attest to the central role of the human body in contemporary social life.
Accompanied by a comprehensive exhibition catalogue, 'We can make another future' is a view of contemporary Japan from a specific institutional perspective, but one constructed from a deep history of collective research and ongoing engagement.
Publication
We can make another future: Japanese art after 1989 profiles QAGOMA's holdings of contemporary art from Japan in a richly illustrated and beautifully designed hardcover publication.
Chronicling the art of the Heisei era, which commenced in 1989 with the ascension of Emperor Akihito, the book features major works by artists including Yayoi Kusama, Lee Ufan, Takashi Murakami, Yasumasa Morimura, Daido Moriyama, Yoshitomo Nara, Hiroshi Sugimoto and Yukinori Yanagi. The era coincides with the peak of the Japanese economic boom and its later contraction, which led to the 'lost decades' of the 1990s and 2000s, but also the rise of Japan as a cultural superpower. QAGOMA's collection of contemporary Japanese art is the most extensive in Australia and is uniquely positioned to shed light on this fascinating period, exploring various aspects of culture and society in Japan through the work of its leading artists. Accompanying the exhibition of the same name, We can make another future includes essays by QAGOMA curator Reuben Keehan and Japanese curator Shihoko Iida, as well as a detailed chronology spanning 25 years of Japanese art in the context of wider culture and society.
The publication is available for purchase from the QAGOMA Store and online
Image: Sachiko Kazama, Japan b.1972 / Nonhuman crossing 2013
Programs and Events
International Women's Day
2.30pm Sunday 8 March 2015 | Exhibitions spaces, GOMA
On International Women's Day, join Dr Allison Holland, Lecturer in Art History, The University of Queensland, as she explores the 'We can make another future' exhibition with a particular focus on the representation of women in the exhibition. Free, no bookings required.
Special event: Japan in focus
6.00pm Wednesday 11 February 2015 | Cinema B, GOMA
QAGOMA has a long history of engagement with Japanese art, exemplified by the 'We can make another future: Japanese art after 1989', 'Future Beauty: 30 Years of Japanese Fashion' and 'Hanga: Modern Japanese Prints' exhibitions currently on display across both buildings. Join QAGOMA curators and a special guest speaker in this critical session exploring the Gallery's Japanese Collection holdings, as well as our history of engagement with Japan. 
Speakers include:
Dr Morris Low, Associate Professor in Japanese History, The University of Queensland and consultant curator for the Third Asia Pacific Triennial of Contemporary Art

Reuben Keehan, Curator, Contemporary Asian Art, QAGOMA

Tarun Nagesh, Associate Curator, Asian Art, QAGOMA 
Free. Bookings essential, limited spaces available. Book online or (07) 3840 7144.