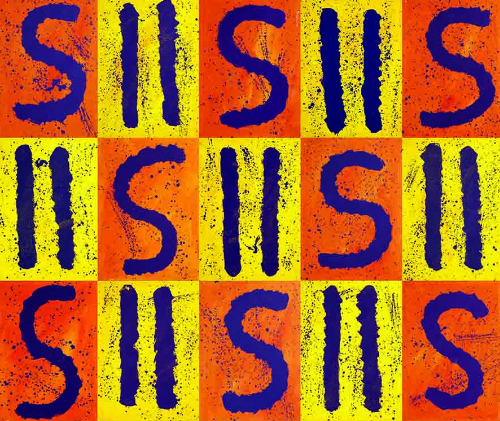 Artists: 
Matthew Johnson's artistic apprenticeship has been an eclectic if not a modernist one. A Melbourne-based painter, Matthew's diverse travel and cultural experiences are distilled through the archetypal filter of oil and pigment. The underlying compositional structures of his paintings are repetitive – grids, geometric patterns, stripes or sequential arrangements drawn from nature. Matthew has has completed numerous residencies throughout Europe and Australia. As well as having his work held in numerous private and corporate collections nationally and internationally, Matthew is continually developing site specific architectural installations throughout Australia.
Michael Nelson began painting some 25 years ago in Papunya, Central Australia, in the classic dot and circle tradition of desert sand painting. Much of his work centres on the country in the Mt Singleton area and tells of traditional Dreaming stories including Possum, Kangaroo, Emu and Lightning. Michael Nelson was recognised nationally and internationally in the late 1980s through numerous public art commissions and awards including the 1984 Telstra National Aboriginal Art Award. During the late 1990s, he reinvented his approach to painting with a more expressionistic style. He continues to make the salient point that although his choice of colours, materials and appearance of works are continually being reformatted, his stories have never changed. Michael Nelson's significant contribution to Aboriginal Art was recognised in 2008, when he was awarded an Honorary Doctorate from the University of New South Wales. His works are held in numerous private, corporate and most public collections in Australia including the National Gallery of Australia and the Nationally Museum of Australia.
Rosella Namok first appeared on the contemporary art scene in the late 1990s to become the most successful artist to come out of Far North Queensland's renowned Lockhart River 'Art Gang'. Her paintings revolve around several narratives relating to social, physical, and natural environments. It is thorugh her finger patterned linear arrangments that Rosella creates her signature designs. The artists works are currently held in private and public collections both nationally and internationally including the Art Gallery of New South Wales, Sydney, National Gallery of Australia, Canberra, The Kluge-Ruhe Aboriginal Art Collection of the University of Virginia, Charlottesville, Virginia, USA and Columbus State University, Georgia, USA.
Image: Big lightning by Michael Nelson Jagamara