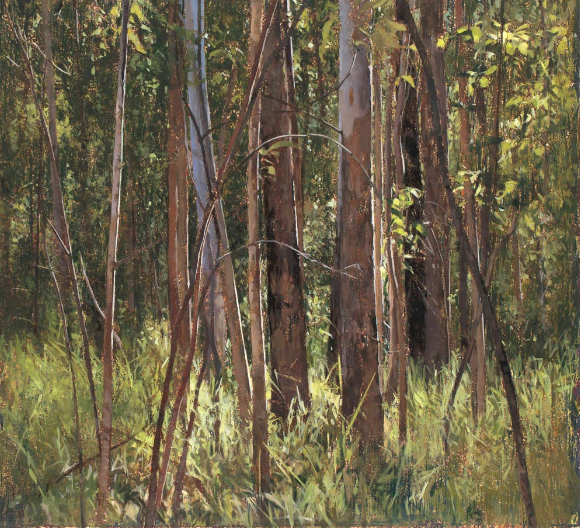 Hinterland is a German word literally meaning 'behind-land', that is used to describe an inland area adjacent to the coast. Queensland artist A.J. Taylor's latest exhibition contains paintings inspired by the unique hinterland environment of the Sunshine Coast.
Just north of Nambour, Parklands Conservation Park is a large area of bushland with an extensive network of mountain bike tracks that affords access to a diverse range of vegetation. This series depicts scenes glimpsed passing through this landscape. As an artist who lives in the area, Taylor's deep knowledge of the terrain allows him to portray the landscape with a local's perspective.
There is a deliberate reference here to the Heidelberg painters, particularly Fred McCubbin and Tom Roberts, though the works are far from being traditional landscapes. From a distance, the pictures offer glimpses of recognition and suggest familiar contexts. Up close, however, they fragment into abstracted codes, where painterly blips and dashes both camouflage and signal the precarious nature of vision.
ABOUT THE ARTIST
A.J Taylor has been a regular exhibitor in solo and group exhibitions in Brisbane and Sydney for nearly two decades. His work is represented in public and corporate collections, including Artbank, BHP Billiton, Macquarie Bank and the Museum of Brisbane, as well as in private collections throughout Australia and internationally. He has been a finalist in a number of prizes, including the Wynne Prize, Fleurieu Art Prize and the Hawkesbury Art Prize.
Image: At the edge of the forest (early light) 2017. Oil on board79.0 x 87.0 cm.