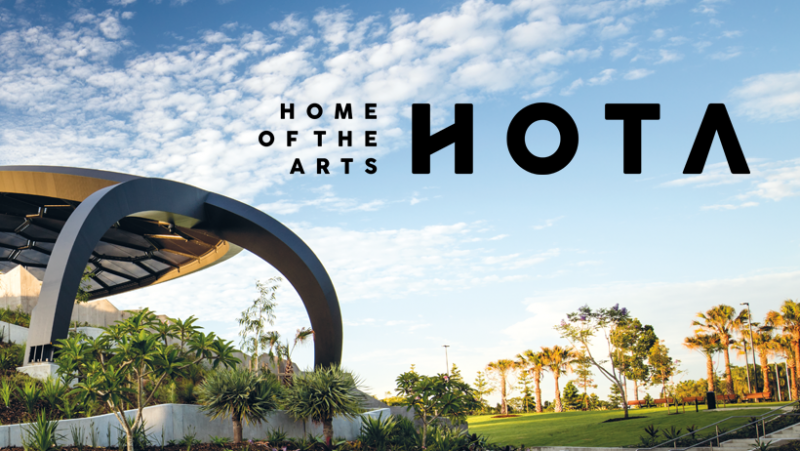 HOTA, Home of the Arts is the home for all things creative. A home that brings people together where ideas are transformed into real life experiences. A place where art makes the world a better place.
We're opening our doors to artists. We believe art thrives when there is collaboration, mentorship and shared ideas.
Our future is bright 
We're building momentum for a richer, deeper arts and culture experience for the Gold Coast. There's so much more to come at HOTA, Home of the Arts.
Gallery at HOTA
Gallery at HOTA presents a lively program of exhibitions and events and is home to our multi-million dollar art collection, including one of the largest collections of Aboriginal and Torres Strait Islander art in regional Australia.
In 2017 we presented twelve exhibitions featuring more than 400 artists and welcomed more than 45,000 visitors. Highlights in 2017 were Signs of the Times, celebrating thought-provoking street art, and the popular exhibition Coming into Fashion: A century of photography at Conde Nast, a look at seminal fashion photography from the last century.
We are also home to the highly-regarded Josephine Ulrick and Win Schubert Photography Award, and in 2017 offered a $25,000 cash prize.
We love art and artists. And we believe creativity thrives when there is space for risk taking, engagement, and collaboration. Gallery at HOTA will create opportunities to support homegrown artists through workshops, mentorships and commissions. Our desire is to bring great artists, meaningful experiences and the best art to the Gold Coast. Come and grow, learn and just be with us.
We're also always looking for ways to get our kids and young people growing up with art. Future innovators can play, explore and enjoy hands-on experiences in our regular workshops for kids.
In 2018 work will begin on the construction of our purpose-built $60.5 million HOTA Gallery. When completed in early 2021, it will be the largest public Gallery outside a capital city in Australia with the ability and ambition to present exhibitions and projects of national and international scale that focus on art and design
Gallery Contact
T: 07 5588 4067E: gallery@hota.com.auUnless specified for particular exhibitions, entry is free and donations are warmly appreciated.
Gallery Hours
The Gallery is open from 10am – 5pm daily.
For more information please visit the – HOTA Website