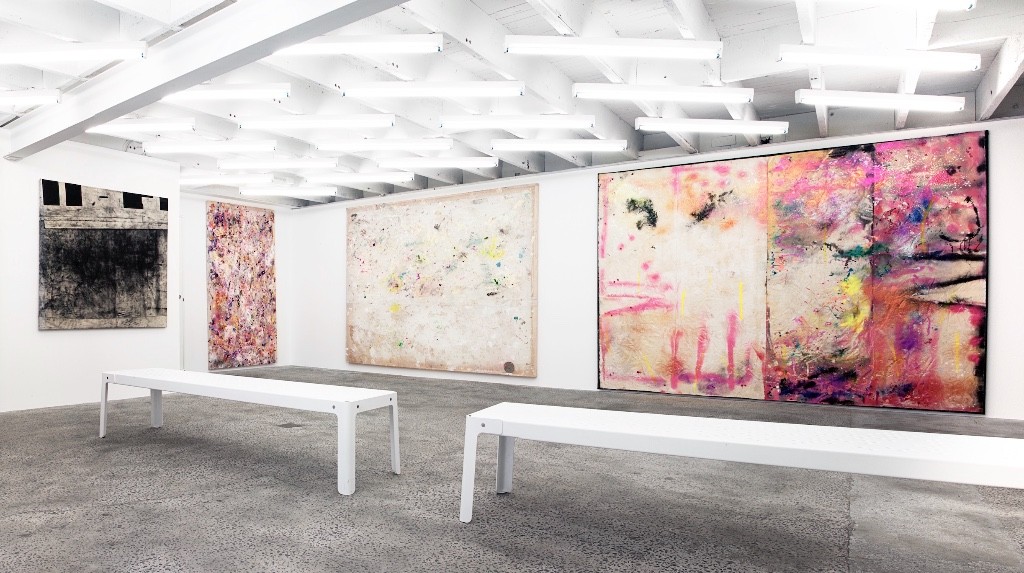 In the Balance featuring paintings by Californian artist Kimberly Rowe and Denver based artist Paul Owen Weiner. 
Paul's recent works deal with the 2012 Aurora theater shooting, which occurred in the community the artist grew up in and lived in at the time of the shooting. This disaster, in which 82 people were killed or injured, reopened a traumatic wound in the Denver metro area, which has been plagued by active shooter incidents since the 1999 Columbine massacre.
These particular works reference the legal documents that followed the theater shooting, many of which were heavily redacted for years leading up to the trial. Paul began directly copying the blacked out and censored areas from these documents into his paintings, which appear to be redacted. The process of redaction has evolved into a symbol that transcends this particular trial as a reference to the culture surrounding the handling of sensitive information. Since the completion of the trial, Paul's work has also evolved to comment on the constant deluge of mass violence that is now dominating the media. On a formal level, the paintings display a gritty, dirty appearance that is intertwined with a conceptual reference to violence. In the studio, Paul drags and throws his paintings across the space so as to accumulate the detritus of these actions. He also slices, steps on, and beats them until they are blemished and bruised. The visual dichotomy between these minimal swaths of black and the abused, gritty appearance of the canvas develops into a clumsy paint handling juxtaposed against distinct and sharp lines. In this sense, the paintings explore uncharted territory for the sublime: flat and minimal yet dirty, painterly, and violent.
In response to Paul, Kimberly Rowe has created virtually weightless, almost transparent paintings that are as full as Paul's while offering not its opposite but it's complement. Each painting is an evolution or expansion of an idea spawned between imagining and doing. Often working on the floor, Rowe placed sheer fabric down on top of residue from previous projects and began painting.  When she lifted up the work she found dust, dirt, pigment, staples, and even a screw embedded in the painting and I decided to keep it.  Since then she has left all of the debris on the ground knowing that each painting will be moved a little bit forward by those that came before it.  The paintings reveal an ability to be not only light and airy, almost as if it is made only of its essential self, but also that a painting can be two-sided, demonstrating a culmination of Rowe's years long conceptual investigation."