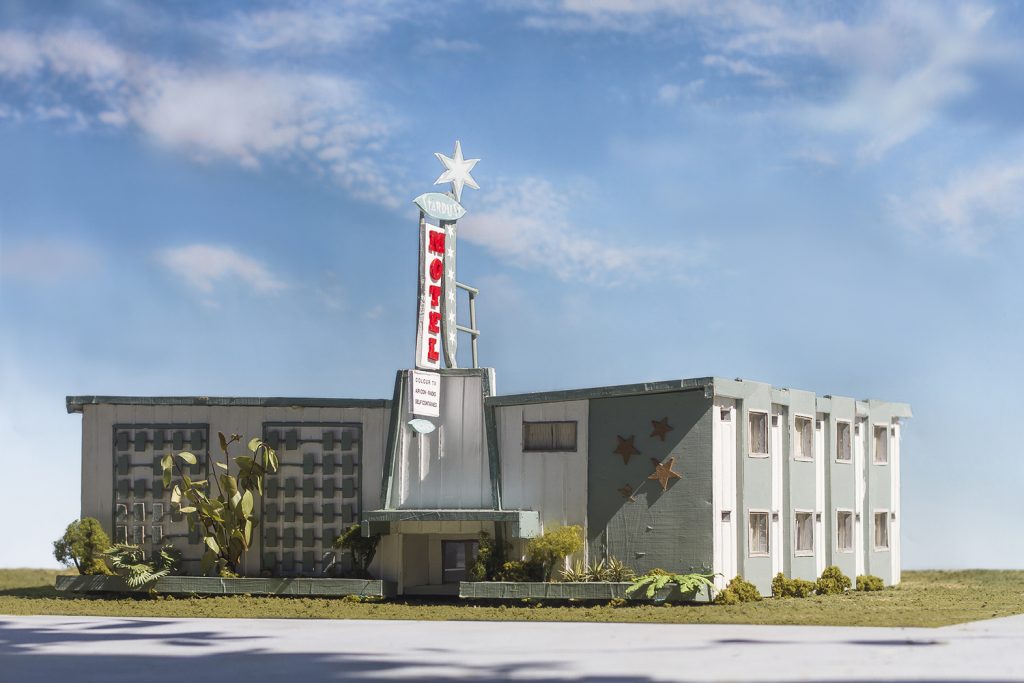 Queensland College of Art doctoral candidate Anna Carey will join the ranks of artists like Pablo Picasso, David Hockney, and Claude Monet with the acquisition of two of her works by the renowned Los Angeles County Museum of Art (LACMA).
LACMA is one of the world's premiere art institutions, boasting a collection of more than 100,000 works by the greatest artists in history.
The venerable art museum acquired two pieces from Anna's Stardust series: '517 North Vine Street, Hollywood…then' and '517 North Vine Street, Hollywood…now'.
Both works feature 'Stardust' motels from different parts of the world. Using old postcards for inspiration, Anna designed and fabricated miniature models of the motels in their prime. She then photographed the models within 'sets', which featured oversized photographs of real landscapes.
Using Google Maps to find images of how the motels currently looked, Anna then 'renovated' the models to produce realistic '… now' versions of the motels.
"I'm inspired by artists that create a space of stillness, imagination and contemplation of deeply familiar spaces which is what I aim to do in my own work," she said.
An exhibition with the Queensland Centre for Photography (QCP) which toured to Los Angeles helped build relationships with curators and directors at major museums in LA. Work by local artists who exhibited with QCP was recently snapped up by LACMA and the Getty Museum.
Queensland College of Art Director Professor Derrick Cherrie said the acquisition of Anna's work was a "remarkable achievement".
"We are delighted that Anna's works have been acquired by LACMA – this is a remarkable achievement for an emerging artist," he said.
"LACMA holds an astonishing collection of work and attracts more than a million visitors a year. Anna's work will hang alongside some of the world's most iconic artists and be seen by a global audience.
"The fact that our students' work is held by some of the world's most prestigious galleries reflects the calibre of our cohort and faculty here at the QCA."
The Gold Coast native graduated from the QCA with a Bachelor of Digital Media (First Class Honours) and is now completing a Doctor of Visual Art.
"The teachers and mentors I have had over the years at the QCA have made a big impact on me. They have taught me what great things can be achieved as a Queensland artist," she said.
"My dream is to be able to have a sustainable practice that I can work on full time without compromising the work.
"All that really matters to me is that I make interesting work and continue to develop my ideas.
"I'd also like to go overseas for some art residencies after I finish my post graduate studies. I want to travel, produce work and exhibit."
Anna has exhibited at Photo la, Los Angeles; Artereal Gallery, Sydney; Andrew Baker Art Dealer, Brisbane; Dlux Media Arts, Federation Square Melbourne and the Museum of Brisbane.
She has been shortlisted for prizes including The Churchie National Emerging Art Award, the Queensland Regional Art Awards and the Josephine Ulrick and Win Schubert Photography Award, for which she received the acquisition award.
Anna's work has been acquired by the National Gallery of Australia, Artbank, Gold Coast City Art Gallery, University of Queensland, Caboolture Regional Art Gallery and private collections.