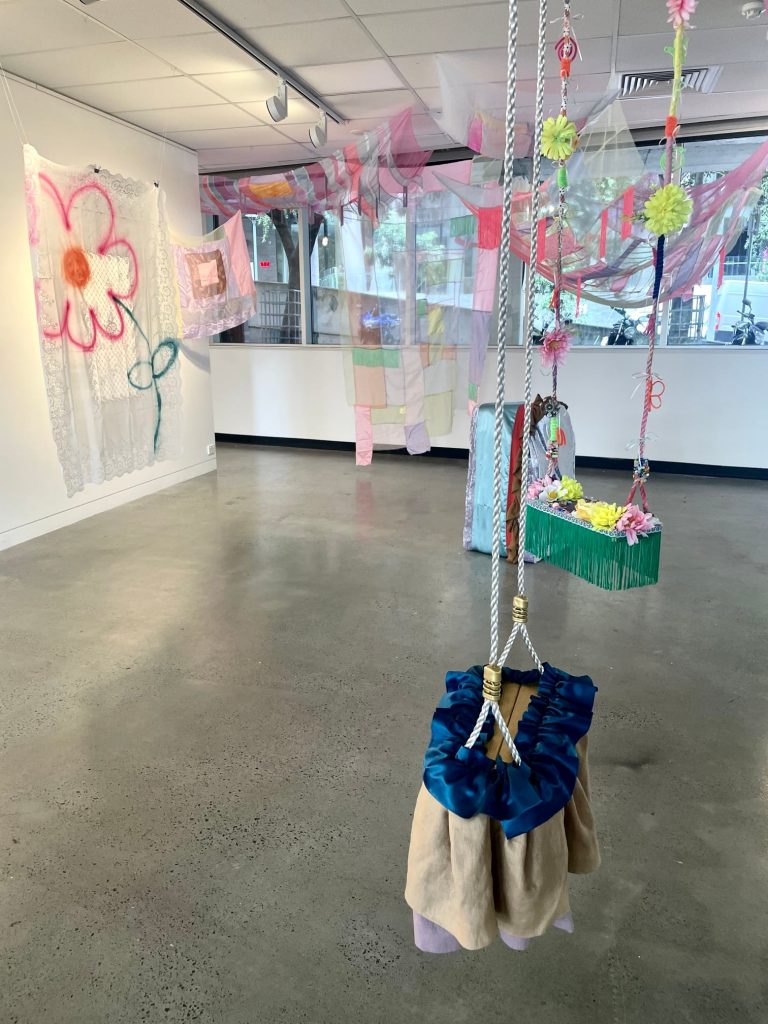 Haute Rococo combines Rococo colours, fabric, painting, and soft sculpture to create a playful disruption of art historical conventions. Instead, celebrating romantic and frivolous aesthetics associated with femininity. Showcasing work by Madelaine Dufficy and Sunday Jemmott, ruffles, drapery, lush textures, and rich colour fill Grey Street Gallery across paintings and space activated sculptures.
This whimsical and reflexive response to the Rococo period (1730s-1770s) implicates the traditional format and airy lighting of the gallery, mischievously jesting at the historical art conventions the artists aim to reframe. The interest in the Rococo comes from the criticism of the style due to softened, feminine colours and extravagant excess. Rococo being perceived as too feminine to be taken seriously sparks a need to disrupt the power structures that direct away from the feminine in historical and contemporary art.
As an ode to Jean-Honoré Fragonard's The Swing (1767), swings are a recurring motif throughout this exhibition. Hanging from the ceiling, embellished, and adorned in ruffled fabrics, but totally unusable, The Swings is a collaborative series that pokes at the criticisms of Rococo and embraces play and femininity. Diverse textiles, playful patterns, vivid colours, and domestic themes bring this exhibition to the forefront of light and playful disruption in the institutional gallery space.
Opening Hours: 10am to 4pm, Tuesday – Saturday
Closing Event: Thursday, 3rd February, 5.30pm – 7.30pm