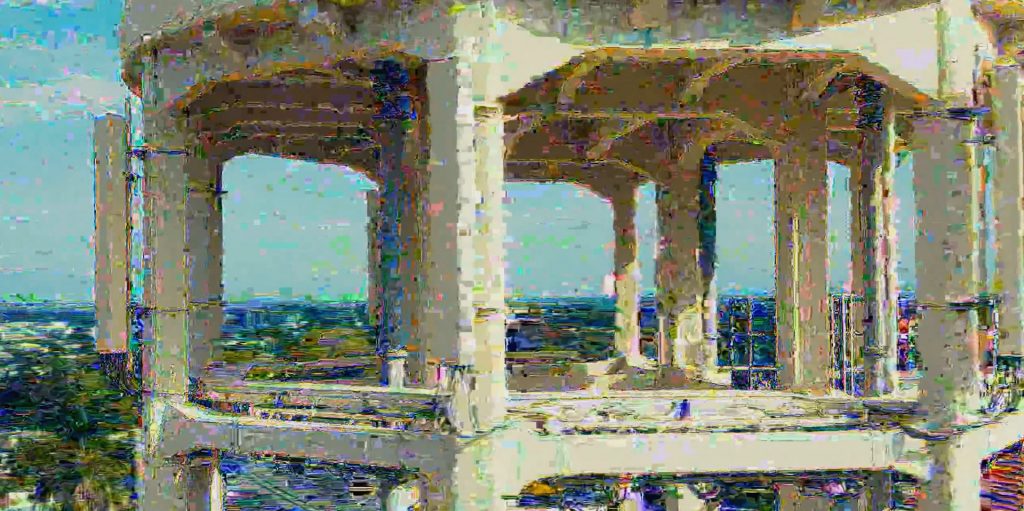 Fields combines drone footage of local Brisbane antennas with live radio signal recordings taken in the same area, exploring the invisible realm of radio through video.
Most radio transmissions are digital, yet they can still be heard as stereo when scanning the airwaves, these sounds range from beeps and boops to harsh static chunks, or sometimes melodic patterns of data.
Candy used a spectrograph to visualize the recorded audio, cutting it with footage of antennas near to the sample location. The resulting video was subsequently corrupted and glitched by the recorded radio data. Created at random, they are beyond the control of the artist, and serve to make the invisible visible.
"The COVID-19 pandemic afforded me the time to explore some long neglected ideas and projects, which eventually fostered a new found love for radio. During the course of the last few months I became obsessed with researching amateur radio operation, finding new ways to listen in on the radiation we transmit. Eventually I got a software defined radio (SDR) and a couple of very specific antennas, enabling me to scan and map the signals around my studio from 10MHz to 3.5GHz, basically everything from Maritime Radio Navigation to GPS, Wifi and cellular signals. At one point I even downloaded a SSTV image from the international space station as it passed overhead. Its fascinating how busy the airwaves are once you are free from the confines of the AM/FM tuner in your car, and its totally legal to listen in on anything! For me this dip into amature radio has revealed a new layer of the technological infrastructure that surrounds us, something we've always known was there but never quite grasped the scope…"
—Michael Candy, 2020
Biography
Michael Candy uses physical technologies to impart systems on ecology and society. Candy has been involved in many international and local projects and exhibitions, notably: The Kathmandu Triennale (Kathmandu,Nepal), Pratt Manhattan Gallery (NYC, USA), The Forum of Sensory Motion (Athens, Greece), The Instrument Builders Project + Hackteria Lab (Yogyakarta, Indonesia), and Hawapi (Huepetuhe, Peru).
Michael Candy, FIELDS, 2020, digital projection, 00:15:00