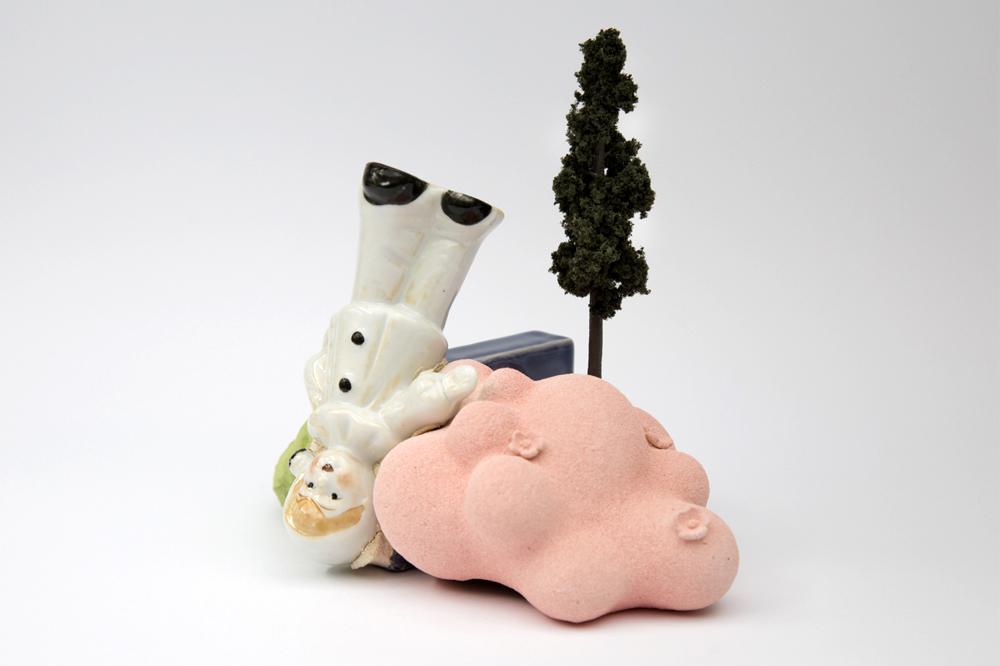 Sharon Muir's ceramic sculptures are a surrealist reinvention of artefacts from the shelves of yesterday. Found mementos having lost their owners and the sentiments that once attached to them, are alchemically reborn into a contemporary world where nostalgia and the kitsch have found a new cache as strange, coral-like, high art construction.
Her sculptures are the chapel of Muir's art.  Also known for her commercial line of ceramics featuring bold graphic designs on red clay, her delicate porcelain sculpture could not be more different.  The tone of these works belong more to the intimate and strange perfume of life's twists and turns.  There is a suggestion of things gone awry yet have managed to keep on living, even beautifully so.  It is a wonderfully poetic conception of life, more reflective of what it is than what we would like it to be, which is why, for example, you'll find reclaimed porcelain figurines cut and turned upside down – their former base now the opening for flowers, perhaps for a personal memorial, a remembrance.  Affected over time, it has grown into something like a dream.
In the studio you'll find the immaculately dressed Muir in her apron, presiding over her workbench, measuring powders onto scales much as you might have seen of the old chemists in the midst of their complicated, restorative preparations.  Here, the process of building her sculptures are carefully thought through and are developed over a considerable length of time.  She allows the work to develop like coral in slow accretions, though multiple applications and firings as bits and pieces are added and adjusted, textures and colours altered or enhanced.
Muir's techniques have been perfected over many years. Beginning with a Bachelor of Fine Arts with Honours from RMIT awarded in 1993 to the completion of her Masters in Fine Arts from RMIT in 1998.  Her work has been shown across Australia and in Singapore, Hong Kong, and Chicago.  She has won the RMIT Walker Award for excellence and in 1999 received an Australia Council Grant to travel to the Netherlands for the Ceramics Millennium Conference. Recently, the Gold Coast City Gallery as a part of the 2016 Gold Coast International Ceramics Award acquired her work "Janine HN2461 Vase".
Sharon Muir's Scenes for Hearts and Flowers resurrects the lost and the worn, bringing back to us the fondness for the forgotten in the poetic chemistry of ceramics, remodelled into a modern fantasy of life in all it's strange and endearing ways.
Written by Florence Forrest
Exhibition on display at Artisan: Small Object Space from the 16th June – 28 July.
Image: Sharon Muir, Vase, 2016, earthenware, paperclay, found objects, slip and glaze.