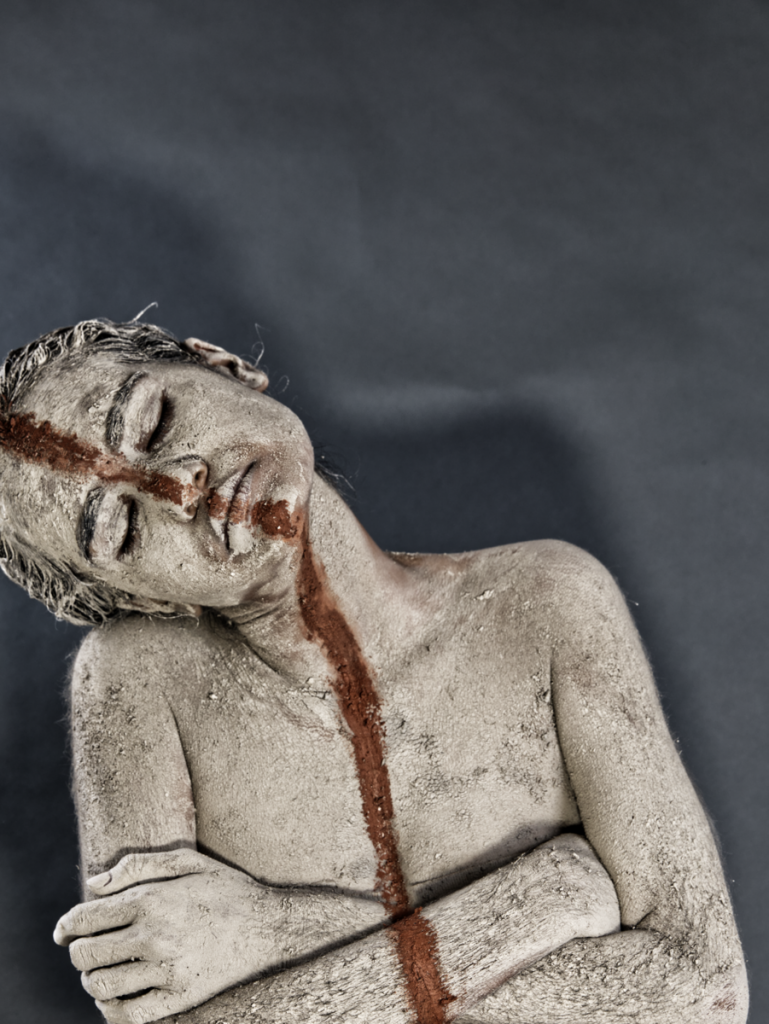 For their first exhibition at Jan Manton Gallery, Simone Arnol (Gunggandji) and Bernard Singleton Jnr (Umpila/Djabugay/Yirrgay) present Medicine Clay, showing from 9 February to 6 March, 2022. This collaborative photographic series presents intimate portraits of three generations of family—father, son and niece—all adorned in Medicine Clay. This fine white clay is revered and sourced by family members for its healing properties, which aid in the treatment of sore belly, women's business and general wellbeing.
In Medicine Clay, Simone and Bernard seek to create a record of knowledge, rituals and customs to be passed on to coming generations. Quiet and meditative, they convey a sense of intense presence and magnanimity. The markings of rich, red ochre highlight each figure in heavy and obvious streaks. This marking process is used by the artists to represent ancestral connections to Country and the transfer of knowledge between generations, with the placement of ochre significant to each bearer.
"I craft using traditional materials, wood, stone, water and fire to ground myself. It is known that these techniques, that have been used over hundreds of years, become somewhat embedded in our DNA," states Singleton. "My work is a way for me to acknowledge and remember the times of my great grandmothers and great grandfathers and those before."
In the photographs, the connection of the forehead and hand with red ochre shows the transfer of knowledge from mother to son through language, craft and practice. As with all generations that have followed, Bernard's niece's connection to their grandmother has developed through teachings, discipline and wellbeing. The alignment of the spirit with physical and mental health is evident in the contour of the red ochre medium. It is the responsibility of younger family members to learn and pass on this practice.
Simone Arnol
Descending from the Gunggandji Peoples through her father and her mother of Sicilian heritage, Simone Arnol uses her strong connection to family and country as a foundation for all of her art. Arnol has worked in fashion, event curation and art in recent years. She has been showcasing at Cairns Indigenous Art Fair's Fashion Performance for the past 5 years and won an award at the National Indigenous Fashion Awards (NIFA) in 2021. Inspired by the many Elders, children and all the Traditional Owners that has been a part of her life through her working career in Indigenous Law and Native Title, she continues to expand herself as a developing, grassroots artist.
Bernard Singleton
Bernard Singleton is an Umpila, Djabugay/Yirrgay man raised in Cape York Peninsula. He continues to maintain strong cultural connections to his Djabugay and Yirrgay country of the Cairns Region where he is based. Singleton is focused in crafting traditional hunting weapons tools and objects and are heavily based on his fathers 30 year work as an archaeological relics ranger. He has 15 years experience in cultural tourism, performing and educating as well as being involved in curatorial work for exhibitions in northern Australia.
Image: Ritual, Bawi (nan) #4, 2021, Simone Arnol and Bernard Singleton, photograph on cotton rag, 84 x 59cm. Edition 1/8.