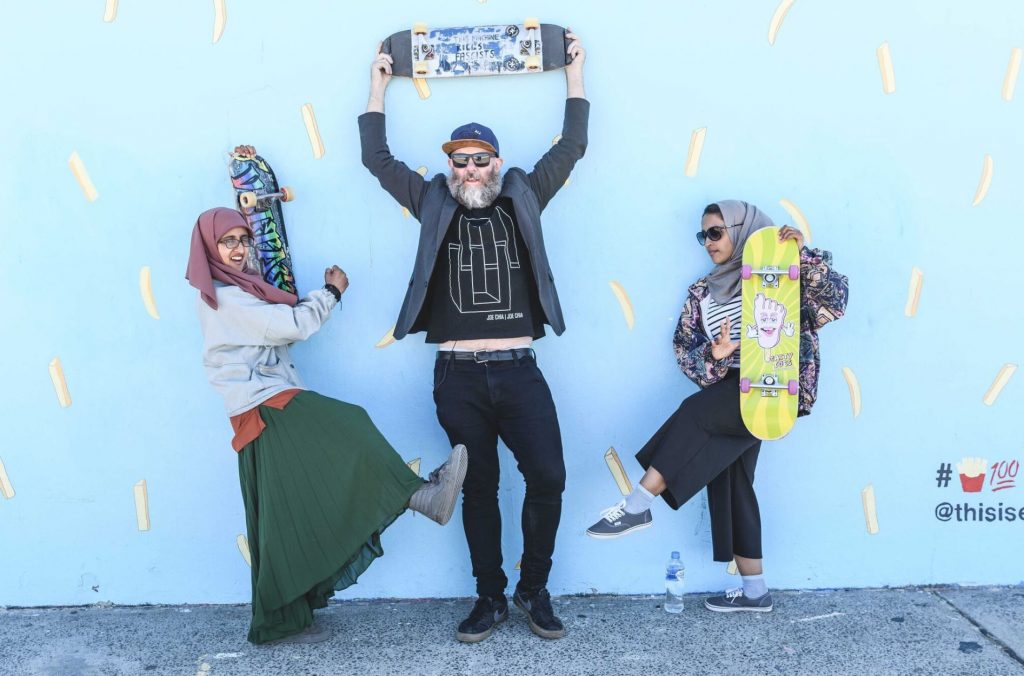 SBS has today released a new 360° immersive film, Storm Riders, which explores the creative collaboration between acclaimed Australian video artist and ex-pro skater Shaun Gladwell and two female Muslim skateboarders, Chadnee Shah and Farhana Hussain.
Following a chance meeting in East London, Storm Riders follows Shaun, Chadnee and Farhana as they plan and recreate Shaun's iconic video artwork, Storm Sequence. Filmed in both London and Sydney, against the backdrop of the 2017 UK terror attacks, the film uses experimental video art pieces and intimate self-recorded 360° diary cam footage to explore the cross-cultural experiences faced by these two women.
SBS Director of Television and Online Content, Marshall Heald, said: "Through SBS's Digital Creative Labs, we're able to use immersive technology to place audiences at the heart of diverse experiences, with the aim of creating a deeper understanding of important, but often untold stories.
"Storm Riders documents a story of shared passion and friendship, while highlighting the challenges faced by two Muslim women as they balance their cross-cultural practices with their modern exploration of art and skateboarding."
Shaun Gladwell, director of Storm Riders, said: "An unexpected meeting with Chadnee served as the inspiration and starting point for this project, which explores the concepts of faith, freedom and feminism in a completely new way. Together, we travelled across London's skate parks and all the way back to Sydney's Bondi Beach to reimagine Storm Sequence as a truly 360° immersive documentary."
Storm Riders was created by Shaun Gladwell and Leo Faber from experimental content collective BADFAITH, commissioned by SBS Australia with production funding from Screen Australia.
Storm Riders is available as a 360° video through the SBS VR app which can be downloaded for free on iOS and Android devices as well as Oculus for Samsung Gear VR.
Storm Riders is currently featured as part of Sydney Film Festival's VR at The Hub program which runs until Sunday 17 June, 2018. Audiences can also experienceStorm Riders using VR technology at the Australian Centre for the Moving Image (ACMI) in Melbourne from Thursday 14 June until Sunday 28 October, 2018.