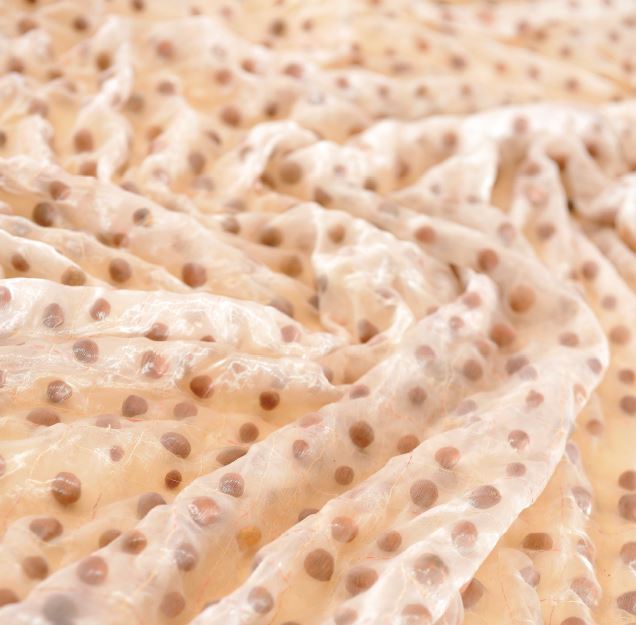 For a period in 1991 I became enchanted by a series of small, suspended copper wire constructions that were included in an exhibition at the Queensland Art Gallery.  During the course of this exhibition I visited these particular sculptures on several occasions, marveling at their exquisitely whimsical nature.  They were reminiscent of three-dimensional models of Leonardo Da Vinci drawings for wondrous machines.
But there was something else that fascinated me about this body of work: the sheer number of individual pieces in the group, each a permutation of the other.  While each piece, on its own was a beautiful and delicately constructed sculpture, as a mass of objects this body of work was a window into the world of an obsessive artist and an art practice driven by curiosity and pursued through relentless iteration.
The artist was Sharon Jewell and it was serendipitous that only months after I was first captivated by her work, Sharon would take up a vacant studio space in the old Dayboro butter factory where I was living and working at the time. We would end up sharing adjoining studios for the following two years. This was a shared time of dedication to emergent practice that afforded me insight into Sharon's artistic development.
Since that time I have been drawn to the work of artists who display an obsessive trait. Their relentless pursuit of an idea, a technique, a medium, a subject, propels the work beyond a concept, and comes, invariably, to bears the mark of a unique visual language that can only manifest through committed practice.
This exhibition, Sharon Jewell – The murmur of surfaces, displays the same qualities of both close attention and wayward imagining, as those works from '91, which are still clear to me after all this time. Like those small sculptures, these works are idiosyncratic but not at all staid. Their binding principle is often a form or shape that is repeated, in a pattern, like dividing cells. But it is the artist's hand that ensures subtle, uncalculated differences, nuanced extemporisations of the original. Such an approach ensures that the rigours of geometry do not overstep the shimmer of life in these works.
Throughout a career now spanning more than three decades, Sharon Jewell has displayed a special ability to produce heterogeneous series of works, in a surprising variety of media.  It is rare for an artist to be so comfortable and proficient in such a range of materials and, unintentionally or otherwise, link those works together through a consistent voice.  This connected diversity is exemplified in this exhibition.
Take for example Sharon's drawings [Tracks dissolving in a drift 1- 2, and Garden drawings 1-5 ], the mesmerising lines, like a highway of small creature tracks through the mudflats at low tide, are transfigured three dimensionally in the organic twisted plywood sculptures reminiscent of the mangrove roots that might over hang those muddy tracks.
Similarly the delicate broken lines of the drawings mimic the stitching that tracks through and binds the cloth works, [Mineral Down and Curtain]. The rhythmic, meditative qualities of the drawings also exist in the large carved plywood panels [Half open wall 1-5].
It is evident that before beginning a work, this artist has a vision of sorts, because the marks and gestures are clear and singular. However, resolution does not come in the imposition of design, but in the conversation that arises with the particular qualities of matter, under the suggestion of pattern. It is as though pattern were an invitation to materials to discover something of themselves. All of the works in the exhibition feel as though they could continue growing indefinitely. While the drawings and plywood panels, constrained only by the boundaries of the surface, push inwards, the twisted plywood sculptures seem poised to spring forth with new growth.
The cloth and stone works such as Curtain are reminiscent of an expanding universe, like tiny meteors floating weightlessly through space. Paradoxically, despite this apparent lightness, the combined weight of the small stones would be a cumbersome shroud to bear.
One has to marvel at the patience and persistence inherent in the works in this exhibition, an immersion in the poetics of material and surface. This is yet another installment in the growing repertoire of Sharon Jewell's artistic vocabulary and like that first body of work I saw almost 25 years ago, will no doubt resonate enduringly in the imaginations of those fortunate to view this exhibition.
Written by Scott Whitaker
From the Exhibtion : The Murmur of Surfaces @ Pine Rivers Gallery  (2nd May – 20th June)
Image: Sharon Jewell, Sharon Jewell, Curtain (detail), 2014, Organza, stones